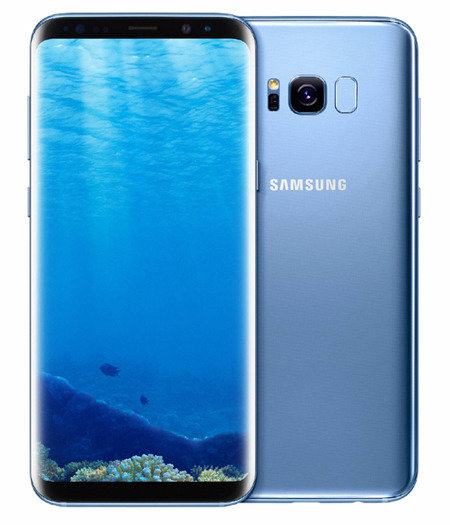 Samsung Electronics' Galaxy S8 smartphone has been selected as the highest rated smartphone by American early adopters. Previously, the Galaxy S8 topped the Consumer Reports ratings.
Research firm Strategy Analytics says on Sunday the Galaxy S8 has an average rating of 4.57 out of 5, making it the highest-rated smartphone on the market based on buyer reviews. When new smartphone hits the market, Strategy Analytics gives grades to the newly-introduced phone based on consumer reviews posted on major websites that sell smartphones such as Amazon, AT&T, Verizon for the first 40 days. Some 1,500 consumer reviews were analyzed for the Galaxy S8.
Among its different functions, the consumers expressed the highest satisfaction for camera function of the Galaxy S8. The front S8 camera is 8MP while the rear is 12MP. "Interestingly, there were no critical comments on the camera", said Strategy Analytics. While the expanded ratio of 18.5:9 display with minimized bezel received the highest technical reviews, the first-introduced virtual assistant "Bixby" was barely mentioned. This means that Bixby is less recognized and utilized compared to Apple's Siri. According to Strategy Analytics, merely 4 percents of the consumer reviews mentioned Bixby, which sounded somewhat negative as well.
In the meantime, the Galaxy Note FE, which has been made from salvaged parts of the Galaxy Note 7 whose sales were discontinued last year, has been constantly sold out, gaining no less popularity than newly-marketed Galaxy S8. The Galaxy Note FE, which came into market on July 7 via the three telecommunication companies, has almost same major specifications with the Galaxy Note 7, while it's cheaper by some 290,000 Korean won (approx. 251 U.S. dollars). Immediately after the launch, the Galaxy Note FE has been in short supply with black onyx and blue coral color gaining the most popularity.
"As only 400,000 units of the Galaxy Note FE are produced for particular fans who like Galaxy note function, we have no plan for additional production no matter how popular it becomes," sources from Samsung said.
Ji-Hyun Kim jhk85@donga.com