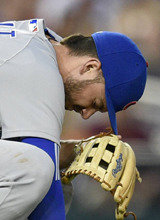 Chicago Cubs players won the 2016 World Series ring of the Major League Baseball for the first time in 108 years by ending the "Curse of the Billy Goat," but this year, they have failed to join the All Star game. As Chris Bryant of the Cubs failed to overcome Justin Turner of the Los Angeles Dodgers in the final vote on Friday, which elected the last one of the players to play at the All Star game, none of the last year's World Series champions have advanced to the All Star game.
According to Fox Sports in the U.S., it is the first time that none of the World Series champion team's players have advanced to the All Star games in the following year. Wade Davis is the only Cubs player to be invited to the World Series, but he just moved from the Kansas City Royals to the Cubs after the end of the last season.
In last year when the Cubs ended the "Curse of the Billy Goat," the team's players accounted for five of nine starting fielders chosen through fans' vote, as they enjoyed overwhelming support. In contrast, as the Cubs are in a slump ranking second in the Central Division of the National League as of Friday in this season, fans are less enthusiastic about the team's players.
This year's Major League All Star game, which brings together the best of the best players, will take place at Miami Marlins Park in Florida at 9 a.m. on Wednesday next week (Korea time).
Hong-Gu Kang windup@donga.com