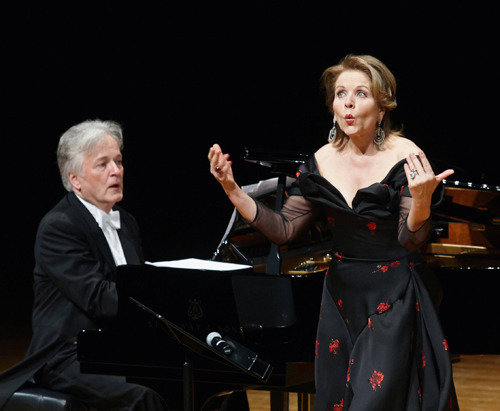 She sang and smiled, moving her skirt back and forth like a teenage girl. The audience enjoyed the concert with a big smile under her spell.
Renee Fleming, America's most popular soprano, performed her first concert in Korea in 15 years on Monday. "I missed you," Fleming said after singing the first song, "C'est Thais, l'idole fragile" from the opera "Thais" by Massenet at her recital in the Seoul Arts Center. The whole audience-close to 2,000 seats- cheered enthusiastically for this long-awaited performance.
The first part of the concert was filled with French, Italian, and German songs, while the second part featured popular songs such as "West Side Story." When she sang Brahms' pieces, the audience felt like they were at the outdoor stage on a clear and quiet summer night. Fleming asked the audience to whistle for the song "I Whistle a Happy Tune" from "The King and I," saying that she's not good at whistling.
She explained the context of the songs with her own stories like in a talk concert. For encore songs, she sang "Summertime" by Gershwin and "Song to the Moon" from the opera "Rusalka."
Her voice was not powerful enough, but she had rhythm, boasting years of experience and refined stage manners. Some songs felt rough and stiff as if the voice was filtered. Maybe it was because of her restrained and thick voice. She missed some high notes. However, it was worth waiting for Renee Fleming's breathtaking concert for 15 years.
Dong-Wook Kim creating@donga.com