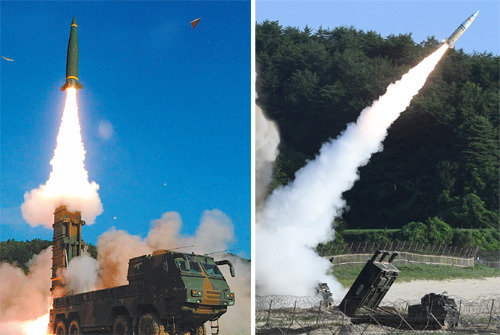 Kim Jong Un's stampede to develop missiles seems to be completely uncontrollable, as North Korea successfully tested an ICBM-class missile. "North Korea is isolating from China," the North Korean leader said, suggesting that since the North is distancing itself from its biggest ally China, it is getting increasingly difficult to control Kim. The South Korea-U.S. alliance has declared a stern response, but it is nonetheless struggling to find a proper response.
According to the North's Korean Central News Agency on Wednesday, North Korea has succeeded in testing core ICBM technology including reentry of the warhead part of a missile into the atmosphere and separation technology through Tuesday's pilot launch of the "Hwasong-14" missile. Pyongyang even disclosed detailed technical specifications including the temperature of the warhead at the time of its reentry into the atmosphere. The U.S. government called an emergency meeting of foreign affairs and security-related secretaries, and officially confirmed that the Hwasong 14 missile is an ICBM.
"We are not in a situation where we can afford to respond with a statement (this time)," President Moon Jae-in said Tuesday night, while ordering a South Korea-U.S. joint show of force, and U.S. President Donald Trump also agreed. The South Korean and U.S. militaries fired Hyeonmu-2A ballistic missiles and tactical surface-to-air missile (ATACMS) in their joint drill in the East Sea on Wednesday to simultaneously strike the North's nuclear and missile stations and central command. The two allies have sent a message that they can retaliate with acts if the North's provocations cross the "red line."

The U.S. also warned of ultra-hardline response as well. "Testing an ICBM represents a new escalation of the threat to the United States, our allies and partners, the region, and the world," U.S. Secretary of State Rex Tillerson said in a statement on Tuesday local time. "The U.S. will hold North Korea accountable by taking even sterner measures." As a result, sense of military tension surrounding the Korean Peninsula is escalating.
However, the U.S. finds it difficult to opt for "duel of power versus power" even by risking full-blown armed conflict with Pyongyang.
It is also increasingly difficult to seek a diplomatic solution. "We can hardly trust China. We are distancing ourselves from China" North Korean leader Kim Jong Un was quoted by diplomatic sources as telling U.S. officials who recently visited the North. Pyongyang is apparently moving to find new channels of cooperation, such as Russia, while reducing its dependence on China, which is deemed to have significant control over the North's fate including supply of oil. 

The South Korean presidential office originally planned to bring North Korea to the negotiating table by using China's influence over the North, while continuing pressure and sanctions against Pyongyang in collaboration with the international community. However, if Pyongyang distances itself from Beijing, such a plan will inevitably lose a momentum.
Sang-Jun Han alwaysj@donga.com · In-Chan Hwang hic@donga.com