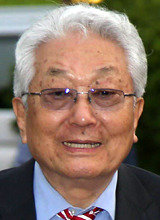 Jang Woong, North Korea's delegate to the International Olympic Committee (IOC), criticized the South Korean government's sports exchange efforts with North Korea. "It is a naive thinking to try to solve North-South relationship through sports before solving political and military issues first," he said.
"(The thought of trying to lay a bridge on inter-Korean relations through sports), is either naive or a desperate thinking, though I'm not saying that it is a skeptical idea," Jang told an interview with U.S. media Voice of America on Saturday. "Political obstacles can't be eliminated just through sports." When he was visiting South Korea for the first time in 10 years to attend the 2017 World Taekwondo Championships on June 26, Jang also said, "Politics stands atop sports. Political environment has to be solved first."
"It won't be easy," he talked on President Moon Jae-in's proposal for a single South-North team for the Pyongchang Winter Olympics in 2018. "Even when the two Koreas had good ties, then South Korean delegate to IOC Kim Un-yong finally arranged the joint march for the 2000 Sydney Olympics after seven meetings. Just as National Assembly Speaker Chung Sye-kyun referred the current situation as tricky, building a single team seems funny and absurd at this moment."
"Jang is not in the position to make final decisions," a Unification Ministry official told on Jang's comments. "He could have personal opinions and we understand it as one of the steps in the process to final decision."
"Unless the U.S. worship culture in the South shifts to nationalism, we have no expectations whatsoever and nothing will change even if the South Korean regime changes 100 times," the Central Committee of the Workers' Party of North Korea said in a statement.
Na-Ri Shin journari@donga.com