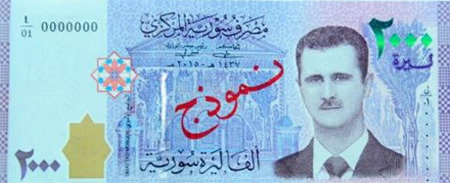 Syria has issued a banknote of the highest denomination featuring the image of President Bashar al-Assad to reassert his regime's control amid the seven-year-old civil war. Banknotes now carry the new president following his father, former President Hafez al-Assad who died in 2000.
President Assad's portrait on the highest-denomination banknote is seemed as an attempt to increase his presence in the civil war where he has the upper hand and further solidify the dictatorial regime.
The value of the Syrian pound against dollar fell from 47 Syria pounds in 2010 to 500 Syria pounds now.
Dong-Joo Cho djc@donga.com