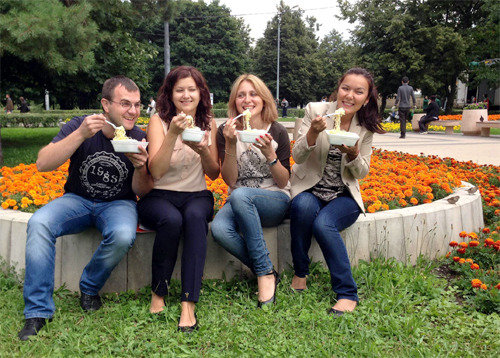 The major export destination of Doshirak is Russia. Out of 4.7 billion of overseas sales, 4.5 billion of them have been sold in Russia and Commonwealth of Independent States (CIS). While Doshirak is a noodle that remains a memory in Korean consumers' mind, it has become a noodle of the people in Russia. Doshirak's market share is 60 percent, beating out competitors of Japan and Vietnam.
Doshirak went over to Russia by the peddlers of Busan port in the early 1990s. Being packed in a container, Doshirak was very popular among sailors and peddlers who travelled between Busan and Vladivostok, Russia. Unlike other cup noodles in circular containers, the rectangular shape of Doshirak was similar to the portable soup container that the Russian sailor used. Doshirak was easy to put and eat on the table in rolling and shaky ships and trains. The spicy taste was similar to that of traditional soup of Russia.
The sailors and peddlers brought Doshirak in Vladivostok by ship and it started to spread to the entire city. Sensing that there was a growing demand for it in Russia, Paldo opened a local office in Vladivostok in 1997 and dispatched two officials. At the end of the year, the sales of Doshirak in Russia increased seven times.
Russian consumers remembered Paldo as a company of loyalty. As the sales grew, Paldo opened another local office in Moscow in 1999, while building two factories for local production in two places in 2005 and 2010. The local corporate entity is named "Doshirak" now, not "Paldo," with a total of 1,000 employees.
The key to Doshirak's longevity was continuous localization. The Russians used high-calorie mayonnaise as a main sauce in a cold weather and they sprinkled mayonnaise in Doshirak just as Korean consumers put an egg in a noodle. To make it suit to Russian taste, Paldo rolled out "Doshirak Plus" that has a mayonnaise sauce in 2012.
The sales revenue of Doshirak in Russia has grown by 10 percent every year since 2010. Recording 70 million U.S. dollars of annual sales in 2005, Doshirak is expected to reach 200 million dollars of sales this year. Doshirak was selected as Best Product of Year in 2014 by Russian National Commerce Association for the first time in the instant noodle industry.
Currently, Paldo is exporting Doshirak to some 30 countries. Marking the 30th anniversary last year, Paldo has rolled out a noodle in plastic pouch in Korea and saw a 135 percent increase in sales year-on-year. "With the successful strategy and business expansion in the Russian market, Paldo will broaden its presence to the Asian and European regions," said sources from Paldo.
Do-Young Kwak now@donga.com