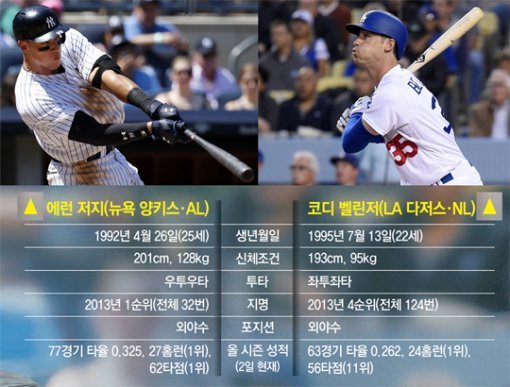 A whopping number of 1,101 home runs were hit in Major League Baseball (MLB) in June (local time). It is way over the record number of 1,069 home runs in May 2000. At the current pace of June, the number of this year's home runs in MLB is expected to reach 6,139.
The two heroes that lead the amazing home run race in this season are Aaron Judge of the New York Yankees and Cody Bellinger of the Los Angeles Dodgers.
The well-balanced giant, Judge is the hottest player in MLB this year. With the enormous power, he tops the American League home run board with 27 home runs as of Saturday. He also ranks first in RBI (62) and OPS (on-base percentage+batting power of 1.138). His batting is exquisite as he ranks third in a batting average of 0.324.
Judge made a big home run on June 12 flying 151 meters in a match against Baltimore. On the previous day, his home run flew at the speed of 121.1 miles (195 kilometers) per hour, which is the fastest since Statcast (MLB's tool to analyze batting and pitching data) was introduced in the 2015 season. If keeping the current pace, Judge is highly likely to win Rookie of the year and MVP in this season's MLB. The most recent winner of both Rookie and MVP at the same time was Ichiro Suzuki (then of Seattle) in 2001.
The home run pace of Bellinger who entered MLB at the end of April this year is equally amazing. He hit 13 home runs in June alone. As of Saturday (local time), out of 64 hits, 24 are home runs. Albeit a low batting average (0.267), he has positioned as a major batter of his team as he ranks first in home runs and 11th in RBI (56 runs).
Heon-Jae Lee uni@donga.com