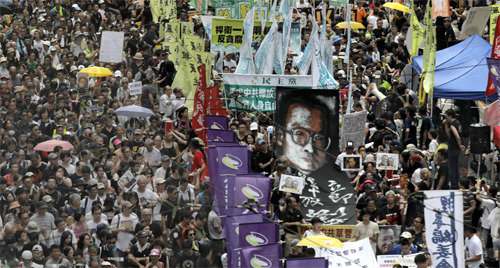 "Any attempt to use Hong Kong to carry out infiltration and sabotage activities against the mainland is an act that crosses the red line and will not be tolerated."
Chinese President Xi Jinping gave this warning against demand for independence made by some Hong Kong residents at the swearing in of Ms. Carrie Lam as the new chief executive of the territory, which also commemorated the 20th anniversary of Hong Kong's handover to China from the U.K., at the WanChai Convention Center on Saturday. In his 31-minute speech, Xi mentioned "one country, two systems" 24 times.
Lam vowed loyalty to the mainland government by using the Mandarin (Putonghua) language in lieu of the Cantonese in her oath and inaugural speech. However, the ceremony marking the 20 years of Hong Kong's return ended in disarray, with pro-democracy forces staging protest rallies to demand more autonomy and stronger democratization of the territory. In the wake of President Xi's first visit, the Hong Kong authority mobilized 11,000 policemen, or about one third of its troops, to put in place watertight security, which helped prevent clash.
Hours after the commemorative ceremony, members of pan-democracy civic groups including the Civil Human Rights Front staged a "July 1 March" to urge democratization of Hong Kong. The march dubbed "one country, two systems, lieu of 20 years; Democratic self-government, retake Hong Kong," started around 3:30 p.m. It was about two hours after Xi left Hong Kong upon completing his three-day visit.
The march took place at about 3-kilometer section from Victoria Park to Admiralty Government Offices in Hong Kong Island. The organizers said more than 65,000 took part in the rally, but police claimed the number was about 14,500, adding it was the lowest level since 2003.
During the rally, the protestors demanded release of Nobel peace laurate Liu Xiaobo who is suffering from stage 4 liver cancer. The North Korean Defectors Concern, a civic group for North Korean defectors' human rights, also handed out fliers on the street, urging improvement of human rights in the North with a message reading "President Xi, stop repatriation of North Korean defectors."
Hong Kong police estimated that some 263,000 people including 236,000 in the Kowloon Peninsula watched the march.
Ja-Ryong Koo bonhong@donga.com