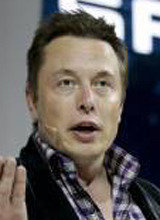 Tesla CEO Elon Musk seems to be most cautious in personality among CEOs who are leading global IT companies, an analysis suggests.
This is the result of an analysis of 11 CEOs of global IT companies conducted by using Watson IBM's artificial intelligence system. The most cautious person among them was Elon Musk and the least careful was Mark Zuckerberg of Facebook and Larry Page of Alphabet.
Vocational data analysis company Paysa used Application Programming Interface called "Personality Insights" from Watson. Paysa put in speeches, assays, books and interviews in the system, and Watson's API analyzed their personality based on over 2,500 words retrieved.
Musk acquired the highest score of 0.96 out of possible 1 point. Cisco CEO Chuck Robbins won 0.95 to rank second. They were followed by Satya Nadella of Microsoft and Larry Allison of Oracle who tied for third at 0.91 point. Zuckerberg won 0.73 point to rank last.
IBM's API is a program that analyzes personality of people based on what a person writes and speaks.
Jae-Hee Kim jetti@donga.com