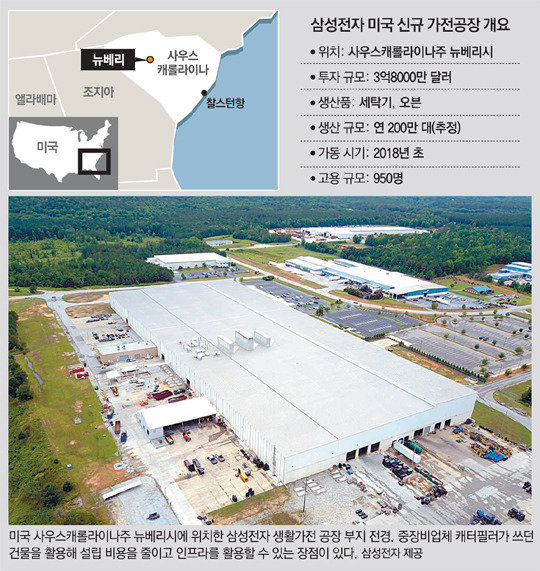 South Korea's electronics giant Samsung Electronics Co. plans to build a 380-million-U.S.-dollar home appliance plant in Newberry, South Carolina to become the second major South Korean company to decide to build a production plant in the United States since Donald Trump became U.S. president.
Samsung signed a letter of intent with the state government of South Carolina for the production facilities at the Willard InterContinental hotel in Washington D.C. on Tuesday (local time). Yoon Boo-keun, president and CEO of consumer electronics at Samsung, and South Carolina Governor Henry McMaster were on hand at the signing ceremony, which is viewed as a "gun salute" a day ahead of the South Korea-U.S. summit.
Manpower cost in the U.S. is six times higher than that of Mexico and eight times higher than that of Vietnam – a factor that is never negligible in an industry with an average margin rate of 5 to 7 percent. However, Samsung has been burdened by growing U.S. resentment against imports and the Trump administration's protectionist policy. Samsung has been facing anti-dumping suits and safeguard petitions in the U.S. market, which account for 30 percent of its annual sales.
However, Samsung is cautious against been seen as caving in to the Trump administration's pressures. A Samsung official said the company had been considering building a production plant as a foothold in the United States for three years regardless of the Trump administration.
If built, the Newberry facilities will be Samsung's first production plant in the U.S. after the 1984 opening of the Roxbury, New Jersey plant that manufactured television and microwave ovens. Samsung invested 250 million dollars to build the plant, only to move to Mexico in 1991 for cheaper labor. Currently, Samsung's only U.S. production plant is in Austin, Texas that produces system semiconductors.
Samsung had been in late-stage talks with South Carolina since late last year in consideration of the state's relatively low corporate tax rate, manpower costs and weaker labor unions. In particular, Newberry won extra marks for its abundance of skilled manpower. Newberry also has good logistical infrastructure as it is located just 241 kilometers northwest of Charleston, the eighth-largest port in the U.S. in terms of volume.
Once completed, the South Carolina plant will likely speed up Samsung's foray into the U.S. market. Samsung was the No. 1 maker of home appliances for the fourth consecutive quarters during the January-March period this year, holding a 19.2 percent share of the U.S. market.
Dong-Jin Shin shine@donga.com