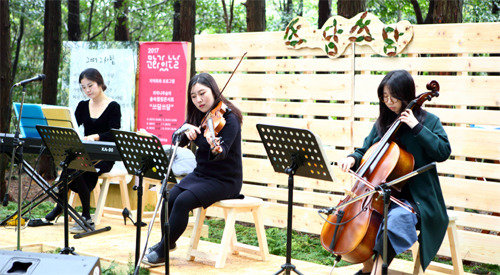 The new administration has decided not to remove but to expand the programs of "Culture Day," one of former President Park Geun-hye's four state agendas as well as a representative policy for cultural enrichment.
The Ministry of Culture, Sports and Tourism announced on Tuesday that it will extend the number of days designated as "Culture Day" from the last Wednesday of the month to the last week of the month in order to reflect the public opinion. The program has provided various cultural benefits to people since 2014. Some argued that office workers and students are difficult to fully enjoy the benefits of the program as Culture Day is designated on a weekday and others complained that the government-led operation of the program hindered local governments and private operators of cultural facilities from the involvement with the program.
The ministry said that it seriously considered abolishing the program due to negative public opinions on Culture Day, as the Choi Soon-sil scandal took place at the end of last year and the program was related to the Park administration's cultural enrichment agenda. The ministry also said on that day that it decided to reorganize the operating methods and extend the days of the program as the yearly opinion poll suggested to expand the project.
The ministry will extend the days of cultural events to a week starting from next month and plan to let individual organizers set the date of their events depending on circumstances. Projects planned by the government will be expanded and changed first so that people can enjoy such programs for more days. For instance, Culture Day Mic, street performance of young artists, will be held on both designated Culture Day and other days in summer vacation spots in July and August.
Efforts to expand participation of private sectors and local governments will be made. To encourage the involvement of private cultural facilities, the government will offer multiple benefits including promotions such as on-line reservation sites for concerts and exhibitions, and live broadcasting supports via the web. Currently, about 2,000 organizations including national and public cultural facilities such as art museums, museums, and libraries as well as civil cultural facilities such as theaters, sports facilities, performance organizations are participating in Culture Day and offer discounts on ticket prices and many other benefits. Visit www.culture.go.kr/wday for more information on participating cultural facilities and performances of Culture Day.
Won-Mo Yu onemore@donga.com