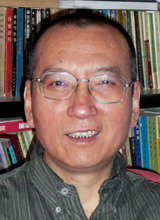 "(He) can't undergo an operation, radiation therapy, chemo anymore…."
Liu Xia, wife of Chinese civil rights campaigner Liu Xiaobo, cried when she told her close friend on the status of her husband via a video call on last Saturday. Patrick Poon, former journalist of Deutsche Welle, posted the video clip on Twitter at Monday night after the news that Liu Xiaobo has been granted medical parole with terminal liver cancer. The short clip that lasted for 10 seconds was long enough to feel the despair of his wife for his fading life.
He was sentenced to 11 years' imprisonment for inciting subversion of state power and imprisoned in Jinzhou Prison in Liaoning Province. His wife, Liu Xia, remained under house arrest since 2010 when her husband was awarded Nobel Peace Prize and was known to suffer from a severe depression.
According to the announcement by the Liaoning Prison Administration Bureau on Monday, Liu was diagnosed with liver cancer recently and was granted medical parole to be treated at a hospital in Shenyang. The authority said that a team of eight renowned Chinese cancer experts of the First Hospital of China Medical University has been assigned to treat him.
The South China Morning Post of Hong Kong criticized the authority as the medical parole was not made immediately when Liu was diagnosed with terminal liver cancer on May 23. His lawyer said, "He looked seriously ill."
He is the first Chinese citizen to be awarded a Nobel Peace Prize. When he was awarded the Nobel Prize he could not attend the ceremony as he was in prison. He was represented by an empty chair. In the award acceptance speech, which was read by someone, he said, "Freedom of expression‎ is the foundation of human rights, the source of humanity, and the mother of truth." Later, the Chinese government banned the import of Norway's salmon for 6 years in retaliation against the country for awarding Liu the prize.P
Wan-Jun Yun zeitung@donga.com