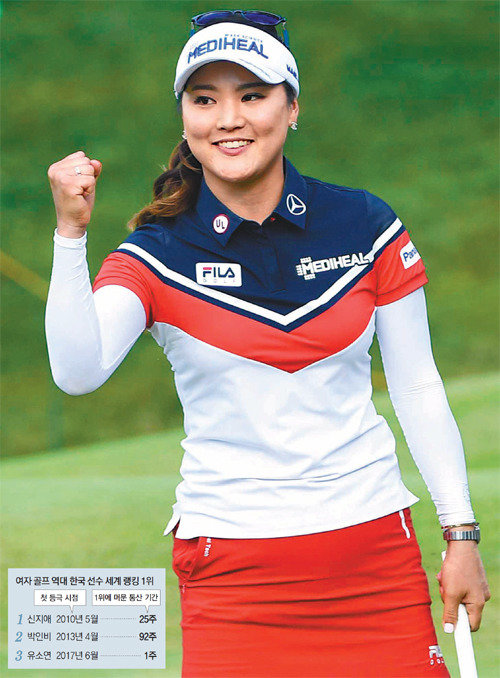 In 2006, a Dong-A Ilbo reporter met golfer Yoo So-yeon at the World Amateur Championships held near Capetown in South Africa. She was a national team player at age 16 and attending Daewon Foreign Language High School as 10th grader. Yoo said back then, "I prayed to God to help me become the world's best golfer in Cape of Good Hope." The reporter recalls a black local caddy waking up at 3 a.m. and walking all the way to the golf club for two hours every day where Yoo warmly shared her brownie with the caddy.
Yoo coudn't go to the Cape of Good Hope due to busy schedule. But she achieved her dream at the end of the southern hemisphere. She ranked first at the Walmart NW Arkansas Championship for LPGA Tour on Monday. At the third round, she hit two under par for a total 16 under par, beating joint No. 2 Yang Hee-young and Thailand's Moriya Jutanugarn with a two hit gap.
Thanks to her victory, Yoo grasped her second win including the ANA Inspirtation victory in April. It is her first time to have two wins in one season since her LPGA Tour debut in 2012. She is also the first player to grab multiple victories in this seaon's 16th LPGA Tour. No player had grabbed more than two wins until 15 games this season. Yoo, who was No. 3 ranking, become No. 1. She is the first Korean female player to become world No. 1 following Shin Ji-ae and Park In-bee. "I can't believe this. I never thought I could enjoy simulataneous wins,"Yoo said "I want to maintain my current position for a long time."
After returning to the field in three weeks, Yoo was in a refresh mode. By hitting 10 under par in the second round, Yoo showed a 90 percent accuracy rate and reduced the number of putts to below 30, recording a minimum number of hits in the competition. She received 300,000-dollar prize money, surpassing 1 million dollar prize faster than any other players, reclaiming a highest award ranking. She learned from Cameron McCormick, coach of Jordan Spieth, thereby strengthening her swing ability while gaining from the mentality training.
After the game, Yoo had dinner with Park In-bee, whom she has been friends with for more than five years. Yoo, having grabbed her first LPGA Tour victory in U.S. Women's Open like Park, Yoo reclaimed a No. 1 position held by a Korean with Park having held it until October 2015. Yoo will be moving to Illinois where the KLMG Women's PGA Championships will be held next week. "In-bee compliments me a lot and tells me that people can learn from me even though I'm a junior," Yoo said. "This has boosted my confidence. I'm always thankful of her."
Jong-Seok Kim kjs0123@donga.com