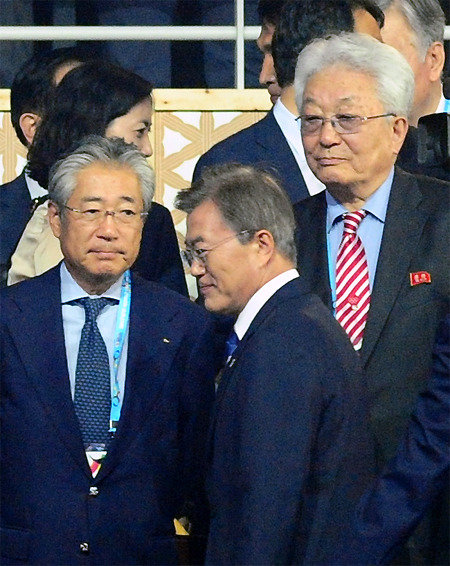 President Moon Jae-in proposed to North Korea that the two Koreas form a single team for the 2018 Winter Olympics in PyeongChang, South Korea. President Moon expressed his strong commitment to seek resumption of inter-Korean dialogue through sports exchange while at the same time joining international sanctions against the Stalinist country. However, Pyongyang effectively rejected Moon's offer in just two hours.
"We hope to see once again the glory of the World Ping Pong Championships and the World Youth Soccer Championship in which Korea achieved the best performance by forming unified teams (of South and North Koreas) for the first time in 1991," Moon said in his congratulatory remarks for the World Taekwondo Championships, which kicked off in Muju, North Jeolla Province on Saturday.
"We also hope to see anew the touching moment of the 2000 Summer Olympics in Sydney when the two Koreas won acclaims from people around the world by having their teams enter the opening ceremony together," Moon said. "It would be great if the North Korean cheering squad also takes part in the PyeongChang Olympics, and provides a watershed for reconciliation between the two Koreas. The government of the Republic of Korea will also make the necessary efforts."
For the opening ceremony on Saturday, North Korea's taekwondo exhibition team visited South Korea for the first time since 2007 and conducted a demonstrative performance. Saturday's event marks the first sports exchange between the two Koreas since the inauguration of the Moon administration, which is also the first time that the International Taekwondo Federation led by North Korea displayed a demonstrative performance at an event in the South hosted by the World Taekwondo Federation. Prior to the opening ceremony, President Moon visited and shook hands with Chang Ung, the North Korean member of the International Olympic Committee who was visiting South Korea in the company of the North Korean taekwondo exhibition team on the day.
North Korea effectively rejected President Moon's offer. Before attending a reception that followed the opening ceremony, Chang Ung told a Channel A TV reporter, "Politics lies above sports," adding, "Political environment should be addressed." His remarks are interpreted as meaning "Sanctions against North Korea including 'May 24 (2010) measure)' should be addressed first if sports exchange such as formation of a single team can happen."
weappon@donga.com · wing@donga.com