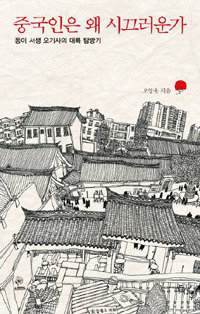 I was completly trapped inside an apartment complex near Tsinghua University in Beijing, China this March.
After browsing the university, I hurried to come back to a famous bookstore where I was supposed to meet the rest of my party. In order to save time, I ignored the main road, turned on the Google Map, and chose the alley instead. Even though I walked straight through an apartment complex which the Google Map guided me as the shortest route, a gigantic wall blocked the main gate, which only residents can use. As a Korean used to enter and exit individual apartment sections, I was quite frustrated to arrive at the dead end. There was no turning back, since I already walked all the way through the mega-sized complex. I have already checked that the main gate was on the main road where citizens freely passed by. "In China, residential areas were designed as closed structures since the age of time, and modern day apartments share the same design," said an acquaintance who lived in China.
This was an experience that I underwent in Beijing while I was reading an essay on the author's trip to major Chinese cities. Just as the title "Loud Chinese," the author explains that their clamoring was derived from closed residential space. According to the writer who is also an architect, China has been building high walls inside the castle town which is again surrounded by tall ramparts. The high walls installed here and there around the town gave only few options but to shout whenever the Chinese needed to communicate. Indeed, a unique urban structure shaped the characteristics of Chinese.
It seemed that I was not the only one who was impressed by the peculiar design of the Chinese apartments. "While built as a modern residential building designed to ask new lifestyles to the residents, the apartment complex itself maintains its old characteristics. Outsiders are overwhelmed as they are abruptly shut out," explained the author.
Another noticeable chapter was a comparison of the three capitals of ancient countries in China, Korea, and Japan; including Xi'an (Tang Dynasty), Gyeongju (Shilla Dynasty), and Heiyankyo (currently Kyoto). The author presumed that Gyeongju fully adopted the ridges of the nature, compared to Xi'an and Heiyankyo, which showed perfectly square paces and neatly aligned urban districts located in tiles. The hypothesis may be a very persuasive one, when considering the crescent-shaped Wolseong site.
Sang-Un Kim sukim@donga.com