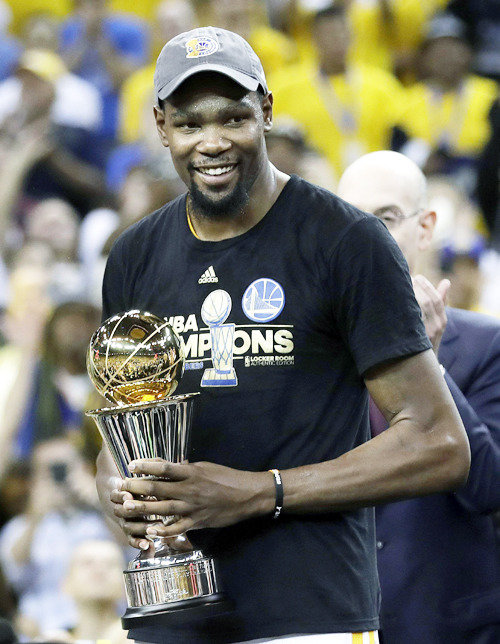 Kevin Durant (29), the MVP in the NBA Champions League, will likely stay with the Golden State Warriors, at which he has won the first champion's ring in his career, by giving up an option worth a fortune. 

"Durant, who will become a conditional free agent effective on July 2, has decided to give up his option, and stay with Golden State in the 2017-2018 season as well," U.S. sports channel ESPN reported on Tuesday.
When signing contract with Golden State last year, he included 'player option' that allows him either to stay with the team one more year or become a free agent to leave the team after receiving option salary following the end of the first season. However, Durant has not only given up 28 million U.S. dollars that he could have received by exercising his option but also decided to accept loss worth about 4 million dollars in next year's salary compared with the salary that he could anticipate as a 10-year veteran player. 

His move is rather unusual considering that he is the MVP who just had the best season in his career. However, Durant has given up his privilege without hesitance to ensure that his team can remain the strongest again in the next season. As a result, the team can now afford to spend more to recruit Andre Iguodala (33), who is being highly sought after by multiple teams.
Durant does not stand to lose entirely through the deal. He would often say "I want to play with the Golden State Warriors," and he now can use his sacrifice this year as a basis to forge a long-term contract with the team.