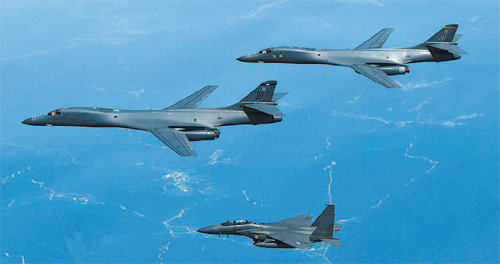 The U.S. forces has deployed B-1B Lancers, one of the U.S. strategic assets, in the midst of the controversy stirred by Moon Jung-in, a South Korean presidential advisor for unification, foreign affairs and security who said, "The Korea-US joint military exercises and US strategic assets might be reduced."
According to the military authorities on Tuesday, two B-1B bombers left the Andersen Air Force Base in Guam early Tuesday morning and flew over the Korean peninsula in three hours. They conducted a joint exercise with South Korea's two F-15 K fighters and had a mock bombing drill in Gangwon Province. The supersonic bombers stayed over the peninsula around two to three hours.
It has been reported at least seven times that the bombers were deployed over the Korean Peninsula. It raises a question why they were deployed right after Moon's comment on the reduction of strategic assets. Some say that it reflects Washington's displeasure at the comment.
"The decision to deploy B-1B bombers was made before Moon's comment. It coincided with Otto Warmbier's death," a South Korean military source said. "It is true that Washington suddenly gave an order to the U.S. Forces in Korea to promote the deployment of B-1B bombers right after Moon made the comment last weekend."
In response, the U.S. Forces in Korea asked South Korean Air Force to take pictures B-1B bombers and distribute them to the local media. The photos were posted on the website of the United States Pacific Command on Tuesday afternoon. It is a very unusual step given that the U.S. neither unveiled the deployment of B-1B bombers nor distributed their photos. Some say that it is Washington's intention to promote that the deployment of the U.S. strategic forces on the Korean Peninsula cannot be a bargaining chip on the negotiating table with North Korea.
Hyo-Ju Son hjson@donga.com