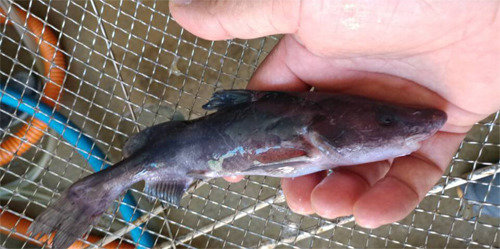 "The most popular fish favored by high ranking government officials in Hanyang for the 500-year history of Joseon dynasty is Jong-eo (photo) in the Geum River. It is always delicious regardless of cooking methods." This excerpt from Joseon Damsusan Myeongeo was released by the Dong-A Ilbo on July 27, 1938.
The long snouted bullhead or Jong-eo, which had disappeared 40 years ago on the Korean Peninsula due to overfishing and environmental pollution, was caught in the river. It appears that the young fish discharged in the Geum River to nurse back from the brink of extinction has successfully settled in the natural habitat.

The National Institute of Fisheries Science (NIFS) under the Ministry of Oceans and Fisheries (MOF) announced on Friday that it caught the long snouted bullhead alive on the lower Geum river on May 30. The ministry said that the fish was named as Jong-eo. It was because of that the fish was served for kings as it was tender to eat and had almost no bones and scales.  
The Jong-eo was mostly captured in the Geum River and Han River by the 1970s but no records were found that it was naturally caught since 1982. The NIFS brought the fish from China in 2000 to nurture back and successfully developed its farming method. The restoration project has started in 2007 by parceling out the fish to local governments and discharged 5,000 fish in the Geum River in 2009 and made several attempts to bring the species back naturally. 

The fish (with the length of 23 centimeters and weight of 88 grams) was caught in Yanghwa-myeon, Buyeo-gun of South Chungcheong Province. It was located near the downstream of Geum River in Sedo-myeon, Buyeo-gun of South Chungcheong Province where the NIFS discharged 2,000 young fish with the length of 15 to 20 centimeters in October last year. The NIFS regards that the fish caught this time survived the winter and settled in the Geum River, the natural habitat. The institute is now conducting a DNA analysis for confirmation. "We have checked the possibility to nurture back Jeong-oe that was once deemed extinguished and we'll continue pushing for the project," said Kim Bong-seok,head of the Inland Fisheries Research Institute.

Gun-Huk Lee gun@donga.com