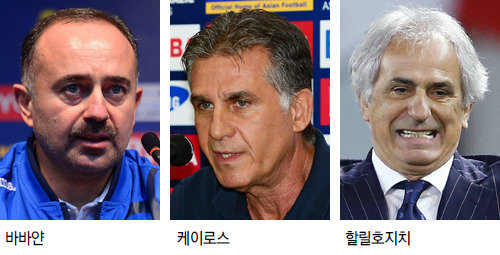 Traditionally known as "the most harsh job for a soccer coach," national football team coaches are showing distinctively different sentiments as they are vying for the ticket to the next World Cup.
When Korean national football team manager Uli Stielike lost his job due to poor results in recent weeks, Uzbekistan soccer team coach Samvel Babayan regained confidence after being severely criticized for the 0-2 lost at the eight round (Tuesday) of the final preliminary in Group A. Uzbekistan fans were outraged and demanded that the control tower should be replaced to go straight to the tournament (by finishing the preliminaries at the first or second place). Still the angry sentiment was silenced as the Uzbekistan Football Association announced that Babayan will lead the team until the final preliminaries. Korea and Uzbekistan will meet at the tenth final preliminaries on Sept. 5 to secure the second position in the group.
Meanwhile, Iranian football team coach Carlos Queiroz is on a fast track, and is already preparing for the tournament, as Iran secured its World Cup ticket as the first in Group A. In recent days, Queiroz announced his World Cup preparation plan, which includes warm-up match schedules to prepare for the tournament. Along with the Iran Football Association, he even selected the Iranian World Cup slogan "80 Million People, One Nation, One Heartbeat." Korea will engage in the 9th round of the finals with Iran on Aug. 31.
However, the Japanese national soccer team coach Vahid Halilhodžić raised people's eyebrows not only for the poor performance at the final preliminaries and warm-up matches, but also for his recent car accident. Though Japan is on the lead in Group B with 17 points, it is still fiercely challenged by Saudi Arabia and Australia, which both accumulated 16 points. In recent days, the Japanese news outlets reported that Halilhodžić made a minor collision in Tokyo on Thursday, which comes as the second accident followed by the fender bender in 2015. "While no one was hurt after the accident, we will still give a warning to Halilhodžić," the Japan Football Association said.
Yun-Cheol Jeong trigger@donga.com