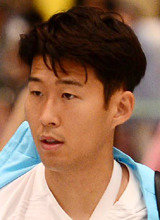 Having been injured in a soccer match against Qatar, Son Heung-min (aged 25, Tottenham) would end up in an operation bed. As his doctors see that his injury would be unexpectedly prolonged, not only his team but also the fighting power of the national team is likely to be significantly affected.
According to sources from the medical sector, Son will have a surgery on his right arm on Friday at KyungHee University Medical Center in Seoul. His injury is exactly called a fracture of proximal radius, which is upper limb of bones in the forearm (from elbow to wrist). Son was hurt his right arm while he was having an aerial challenge with his counterpart at around the 30th minute of the 2018 Russia World Cup qualifier held in Doha, Qatar on Wednesday. "He really wanted to keep running for the game even after the injury but had to be replaced as the pain when pushing himself up from the ground with his right arm was severe," said sources from the national team.
The Korea Football Association announced that it would take about four weeks for him to recover after the surgery. This, however, is quite different from the perspective of people in the medical circle. "His condition is not really good and the recovery period is expected to be 8-12 weeks. Sometimes, the injury in this region requires a second surgery," medical staff who knows Son's condition explained. Song Jun-seop, Son's personal doctor and director of Seoul JS Hospital, said that it would be difficult to fully restore within four weeks after the surgery for the fracture in the region where Son was injured, adding that 8-12 weeks will be more feasible for his recovery. "In the case of wrist injury-prone basketball players, it takes at least six weeks for the broken bones to be fully recovered even though it depends on bone size," a trainer from a professional basketball team said.
If Son's recovery period would prolong up to 12 weeks, it would be a serious blow to the Korean national soccer team who will be qualifying for its ninth straight Russia World Cup game against Iran on August 31. Having barely maintained the second place in Group A (13 points), Korea may fail to seize the ticket for the finals if it loses to Iran (currently at 1st place). As of Thursday, there's only one point gap between Korea and Uzbekistan at the 3rd place with 12 points.
With excellent power of scoring, Son set the best record of scoring 21 goals in the European stage at Tottenham last season, which is the largest record as a Korean player during a single season. Given this, his absence would bring huge loss to the national team. "His team, Tottenham, could strongly disapprove the decision to have him run for the upcoming match against Iran so as to protect its player," Director Song predicted.
When and if his recovery takes longer time, his joining in the free season training is also expected to be delayed. The British newspaper Daily Mail said that Tottenham begins its training from July 3. Even though Son recovers in four weeks as the Association predicted, it would be difficult for him to join early-stage team training with normal condition.
Yun-Cheol Jeong trigger@donga.com