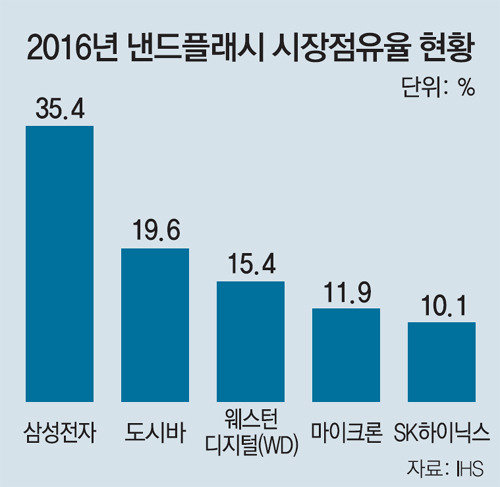 Samsung Electronics, a leader of global NAND flash market, has begun mass production of 4G (64 layer) 256 giga bit, 3 bit V-Nand Flash. This move is aimed at reaffirming their status as world leader in semi-conductor business.
On Wednesday, the South Korean electronics giant announced that half the share of its total production will be dedicated to 4G V-NAND flash starting from this year. NAND flash is a type of memory semi-conductor, which automatically saves data when turned off unlike DRAM memories. Thanks to such attribute, NAND flashes are mainly used for mobile devices including smartphones as well as solid-state drives (SSD), a next-generation storing device. Samsung Electronics is also planning to expand the scope of products with V-NAND flashes, including servers and personal computers.
"The 4G 256Gb V-NAND flashes were limitedly supplied for our global B2B clients in January, and we are planning to respond to the surging global demand by expanding the application of V-NAND flashes to consumer SSDs and memory cards and increasing the share of production as well," said the South Korean electronics maker.
Pundits say that NAND flash is emerging as the next big thing of global semi-conductor market. A considerable amount of semi-conductor supplies are required for all the new technologies dubbed as the keywords for the upcoming fourth industrial revolution such as wearables, big data, Internet of Things, and autonomous vehicles. Against this backdrop, global semi-conductor companies are racing to shift their focal production point from DRAM to NAND flash memories.
"The demand is surging as we are entering the phase of Super Cycle this year, which refers to a significant prolongation of economic boom for semi-conductor industry, and the growth momentum of NAND flashes is singularly remarkable," said an industrial professional. HIS Market, a surveyor, forecasts that globally, NAND flash market will grow by 6.1 percent per annum by 2020. It is expected that the mass production of 4G 256Gb V-NAND flash will enable Samsung to further broaden technology gaps with competitors such as Toshiba and Western Digital.
Samsung's V-NAND flash vertically stacks cells, the storage space, instead of spreading them horizontally. The construction can be likened to erecting a tall apartment building instead of several smaller houses in the same space, thereby boosting the efficiency of storage space. Cutting-edge technology is a prerequisite for such construction as continuous stacking can cause distortion or a discrepancy of traits between top and bottom cells.
"Compared to 3G flash memories (48 layer), the speed, productivity, and power efficiency (of V-NAND flash) have improved by more than 30 percent on the back of the applications of technologies such as "ultra-intensive cell construction and manufacturing" and "ultra-fast circuit design," stressed an official from Samsung Electronics.
It has been reported that Samsung will start mass production of 4G V-NAND flashes at its new semi-conductor plants in Pyeongtaek, Gyeonggi Province, whose operation will be started from late this month. Samsung has invested 13.8 billion dollars in its Pyeongtaek plants over two years, which span 2.89 million square meters wide in premises, an equivalent of 400 football fields. The size of them is the largest ever for a single semi-conductor production line. Currently, the production lines are in a test period.
"All the employees are making a concerted effort to develop innovative technology to advance the era of 1 Tera bit V-NAND, which can store more than 1 trillion pieces of information per semi-conductor," said Gyeong Gye-hyeon, the Vice President of the Flash Product and Technology team, Memory Business at Samsung Electronics.
Dong-Il Seo dong@donga.com