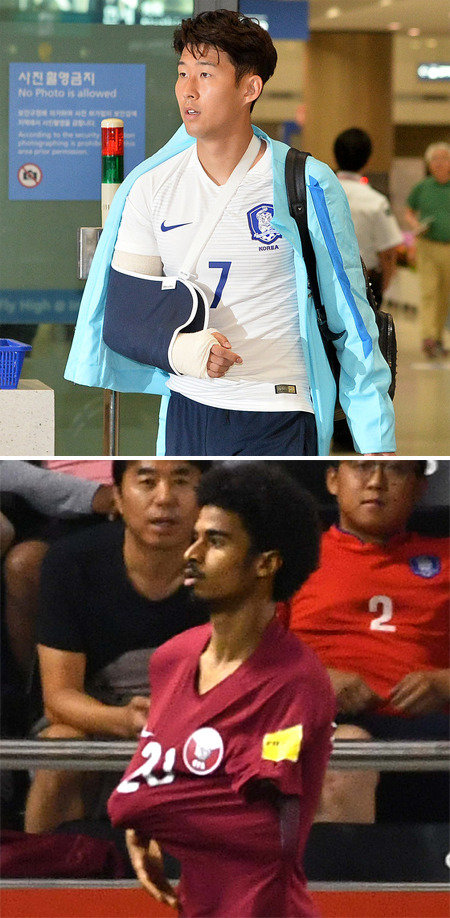 The 24-year-old Korean striker Son Heung-min was injured in Korea's World Cup qualifier match against Qatar. Son's injury would be a huge blow to Korea's national football team.
Son scored 21 goals for his team Tottenham Hotspur in the English Premier League 2016/2017 season, recording the highest number of goals in a season among Korean players in European leagues. Son was expected to be an aggressive forward for the Korean team in World Cup qualifying match to Qatar. His previous performance against the Qatari team was impressive with his two goals in the A match.
His name was on the entry list and Son stared as a left wing forward against Qatar, but, unfortunately, he was substituted off in the 34th minute. While Korea was trailing 1-0, he was challenging a ball against a Qatari player in the air. Son broke his right arm while landing. He lied on the ground in pain for a few minutes and was replaced by Lee Keun-ho by Korea's coach Uli Steilike.
The Korea Football Association has confirmed that Son had fractured his right arm and he would return home wearing a cast on his right arm. Son will undergo detailed medical examination in Korea. Korea's football team has two more games left in the group against challenging opponents involving Iran and Uzbekistan, and Son's absence will be a big stumbling block to Korea with uncertainty looming large over its advance to the World Cup.
Yun-Cheol Jeong trigger@donga.com