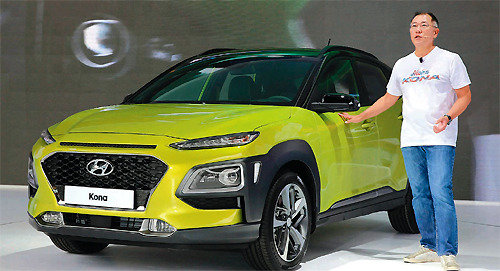 Hyundai Motor Vice Chairman Chung Eui-sun has introduced Hyundai's new strategic vehicle Kona. It is an official announcement of the automaker's entry into the compact SUV market. Chung also released a plan to strengthen the SUV line by releasing more than two models of SUVs by 2020.
The Korean automaker held an official event to showcase the Kona at Hyundai Motor Studio Goyang in Gyeonggi Province on Tuesday. The Kona has been developed to target the compact SUV market.
Chung in a white t-shirt reading "Aloha KONA" drove a lime-colored Kona to introduce the model. He appeared at the Genesis brand strategy presentation before, but it is the first time that he introduced a vehicle model in person.
"The Kona is Hyundai Motor's first compact SUV and new strategic model for global customers," Chung said. "We have developed the Kona for young customers who have dreams, work hard and spend reasonably or customers who have young thoughts." The company has reportedly analyzed the demand of consumers in New York, London and other large cities for the development of the model.
Chung summarized that the Kona is a small but strong, stylish but safe, and multifunctional but convenient vehicle. Though it is a compact SUV, it has adopted smart technologies and used the super-strong steel plate for safety and the highest level powertrain in the category. "We accepted the demand for better urban driving capabilities and mileage is 10 to 15 percent better than competitors," the vice chairman said. The design of the Kona highlights its dynamic nature as it has the low and wide stance concept, which is five centimeters lower but wider than other compact SUVs.
Chung also released a mid to long term strategy saying that the company will aggressively target the global SUV market, which has grown by around 20 percent per year since 2010. "We will make a full SUV line-up in all segments by 2020," Chung said. "We will also release a super compact SUV smaller than the Kona and a large SUV larger than Sante Fe." He also explained that Hyundai Motor would diversify powertrains through electric cars, hydro-electric cars and high-powered engines.
Do-Hyong Kim dodo@donga.com