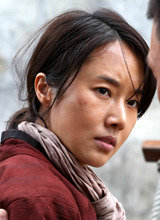 Singer and actress Lee Jung-hyun reduced weight to 36.5 kilograms for her new movie "The Battleship Island." CJ Entertainment said Tuesday Lee lost 6.5 kilograms in two months from 43 kilograms to fit for her character in the movie.
"The Battleship Island" due for release in July is a story of people in the Joseon Dynasty who were drafted into the military by force to an island of Japan during Japan's colony. Ryu Seung-hwan, who directed the movie "Veteran" in 2015 that attracted 13.41 million viewers to top the box office, took the helm of "The Battleship Island."
Lee stars as Mal-nyeon, a courageous woman who maintains an imposing sentiment despite harsh circumstances. She embraces and cares for more vulnerable Joseon girls. Jeong Doo-hong, martial arts director of the movie, said that Lee, despite her weight loss, decisively digested an action scene of gun shooting, in order to express the painful historical circumstances.
In the movie "Roaring Currents" released in 2014, Lee played the role of a tragic woman, and also starred as a tough woman who toils and moils for her living in the 2015 movie "Alice in Earnestland."
Sun-Hee Jang sun10@donga.com