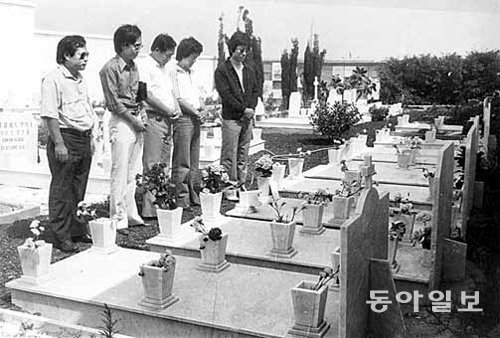 The remains of five Korean sailors of a deep-sea fishing vessel who died in other countries in the 1970s will return home in about 40 years.
The Ministry of Maritime Affairs and Fisheries said on Tuesday that the remains of the five sailors buried in Las Palmas and Santa Cruze de Tenerife, Spain will arrived in Korea on Wednesday. The remains will be delivered to the family and moved to the burial site of their hometown.
According to the ministry, Las Palmas and Tenerife were the outpost and a treasure trove for Korean fishing vessels active in the Northeastern Atlantic in the 1970s and 1980s. Some 200 fishing boats with around 10,000 sailors were active in the area in the late 1970s. The Korean fleet in Las Palmas sold marine products worth 45 million dollars in 1976.
Many sailors died on vessels, however, due to poor working conditions. Many of them fell off the vessel into the sea during fishing and died. The bodies were buried in the region, being unable to return home.
The ministry has been transferring the remains for free since 2014 if their bereaved family wants. As of 2013, 22 out of 318 graves scattered across Spain, Samoa, Fiji and Senegal were relocated to Korea and the remainders are still in foreign countries.
Ho-Sung Cheon thousand@donga.com