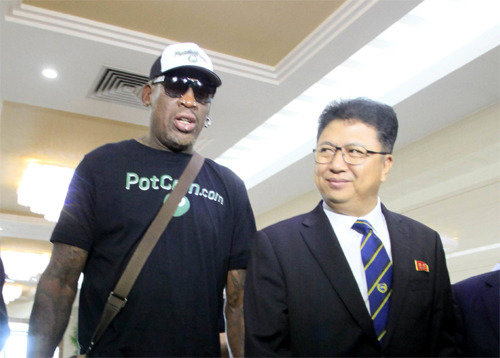 CNN and other media reported that Dennis Rodman, retired professional basketball player of the National Basketball Association (NBA), visited North Korea on Tuesday. Rodman visited the country several times at the invitation of North Korean leader Kim Jong Un and befriended him. Also, Rodman has a bond with U.S. President Donald Trump. Hence, there is much attention towards his visit to the North for the impact on the deteriorating relationship between the U.S. and North Korea.
According to the AP, Rodman told reporters at Beijing's International Airport before flying to Pyongyang, "I'm just trying to open a door (of North Korea). I'm pretty sure Trump is pretty much happy with the fact that I'm over here trying to accomplish something that we both need." He didn't say what he wants to accomplish in detail, but indicated that he will stay in Pyongyang for two nights and three days by saying that "See you again on Thursday. Rodman also added that he wants to do something meaningful (in North Korea).
Rodman has visited the country at least four times including the one in February 2013 when he was accompanied by members of the Harlem Globetrotters. He is known to be the only American who had a dinner and talked with Kim Jong Un several times. In January 2014, he sang a song of "Happy Birthday" to the North Korean leader after an exhibition game along with former NBA players.
Rodman has known Trump for a long time and endorsed Trump for president during last year's campaign. Thus, some observe that he visited the North to deliver Trump's message. Rodman made a scene when he appeared on TV program Celebrity Apprentice hosted by Trump by misspelling the president's wife Melania's name as Milania. At that time, Trump highly appreciated Rodman's ability by praising him, "He is very smart in many aspects and known much of the world." When Rodman attended at the seminar that took place in the U.S. Military Academy (West Point) in March, he told the audience that he wants to negotiate with the North on behalf of Trump.
However, the U.S. Department of State stressed that Rodman's visit to North Korea is irrelevant to the Trump administration. Washington insiders also consider that his visit is more likely to be a personal travel as he often acted unexpectedly.
Seung-Heon Lee ddr@donga.com