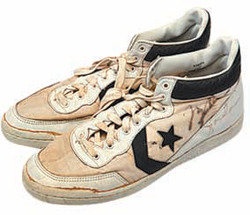 Michael Jordan's game-worn shoes that he wore in the final game of men's basketball of 1984 Los Angeles Olympics were sold for record price in the history of auctions for game-used sneakers.
SPC Auctions that sells sports memorabilia by auction announced on Sunday that Jordan's shoes were sold at 190,373 dollars (or 201.12 million won) at online auction. Jordan, who was then a college student, won the gold medal against Spain. The shoes were obtained by a ball boy who happened to be the 11-year-old son of Gail Goodrich (player of the LA Lakers in the National Basketball Association (NBA).
The pair of shoes are Converse sneakers and they are considered to be the last shoes worn by Jordan as an amateur. Right after the LA Olympics, he joined the Chicago Bulls as the third overall draft pick in the first round of NBA draft and signed an exclusive contract with Nike.
The previous record was also set by Jordan. The sneakers that Jordan wore at the fifth game of 1997 Finals between the Chicago Bulls and the Utah Jazz, which is well known to his fans as the Flu Game, were sold at 104,765 dollars in 2013. At that time, Jordan scored 38 points and took the victory while suffering from a severe cold.
Min-Woo Park minwoo@donga.com