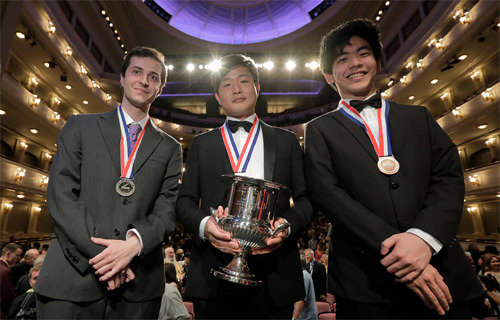 Pianist Sunwoo Ye-kwon won at the Van Cliburn International Piano Competition - one of the world's most famous of its kind - at Bass Performance Hall in Fort Worth, Texas on Saturday (local time). He was the first Korean to win this competition held every four years since 1962. The highest level that other Koreans reached up to until now was the pianist Sohn Yeol-eum who was ranked 2nd in 2009. Sunwoo was followed by Kenneth Broberg and Daniel Hsu who won silver and bronze medals respectively. Sunwoo will be receiving 50,000 U.S. dollars as prize, and will enjoy various benefits such as three years of tours in the U.S. and album releases.
"I still cannot believe I won, but am getting used to the fact after so many congratulations. This precious award comes as a very meaningful prize for me, and all I can think of right now is to show better performance," said Sunwoo during an interview with the Dong-A Ilbo after the awards.
Held fron May 25, the competition screened 30 finalists under the age of 30 from 15 nations who passed the preliminaries at each continent. Among the five Korean finalists, Sunwoo Yekwon, Kim Da-sol, and Kim Hong-ki made it to the semifinals contended by a total of 12 contestants. Here, Sunwoo survived as the final six players.
"Though I've participated in many competitions, there were many regretful moments due to my tardiness and lack of practice," said Sunwoo. "So I tried to leave no regrets and consider this competition as my last."
The Van Cliburn International Piano Competition shares the same prestigious title as world's top-3 piano titles including Chopin, Tchaikovsky, and Queen Elizabeth, and opens winners for more opportunities to play in the States backed by full support.
"I will not set tight schedules, but will strike a balance just as I did, and will do my best to convey those truest feelings during performances," said Sunwoo.
Dong-Wook Kim creating@donga.com