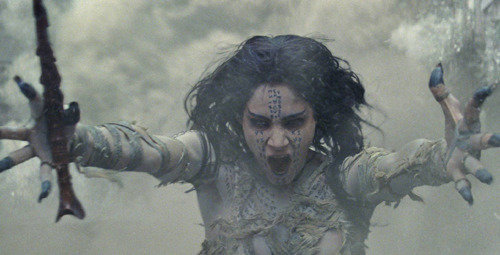 According to the Korea Film Council on Wednesday, "The Mummy" garnered 872,965 people on Tuesday, beating "Train for Busan" that attracted 872,673 the first day of release for a cumulative number of more than 10 million people. "The Mummy" beat "Captain America: Civil War," which had 727,949 viewers and posted the biggest number of viewers as a foreign movie.
"The Mummy" is a story of Nick (Tom Cruise), a hired soldier who discovers a tomb of a mummy of Ancient Egypt in the middle of a desert. He then brings to life Egyptian Princess Ahmanet (Sophia Butella) who has been sleeping for 5,000 years and saves the world from the princess who is on the evil side.
The movie has a similar atmosphere compared with the original movie "The Mummy" released in 1932. The remake that began in 1999 erased comic mood and turned scary and dark. Director Alex Kurtzman, who also produced "Star Trek" and "Amazing Spiderman," said he focused on boosting vitality to cater to the new generation while trying not to turn completely away from what the classical movie offered.
"The Mummy" is the first movie made by Universal Pictures that has promised to come up with a "dark universe" by restoring classical monsters including mummies, Frankenstein and draculas. Marvel Studio succeeded by creating stories of super heroes such as Iron Man and Hulk based on a virtual world of "Marvel Cinematic Universe," and there are expectations that "dark universe" could also become a hit series.
The movie is full of eye candy including fancy computer graphics and action scenes. The most exciting part is that the story of the princess who became a mummy alive is introduced, and the massive action scene where Nick trying to rob relics are followed by anti-Egypt forces. Also impressive is that 55-year old actor Tom Cruise digests aggressive action scenes he made in "Mission Impossible." Russel Crowe, who plays Henry Jekyll, the head of the Prodigium that studies and destructs the world's evil, shows terrific double-faced character despite his relatively small portion in the movie. Jekyll is expected to become a major character in the movie "Frankenstein's Wife (tentative title)" that Universal Pictures plans to release as part of its monster movie series.
However, fancy visual effects are the only things that people can enjoy in the movie. Devil incarnate Princess Ahmanet offers a formidable physical presence but becomes a bored character while fighting with Nick. The love affair between Nick and archeologist Jenny (Annabelle Wallis) also fails to perfect the movie and feels more like an unnecessity.
Sun-Hee Jang sun10@donga.com