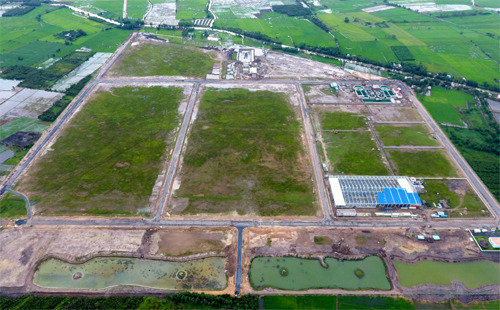 Taekwang Co., a first-generation Korean company that entered the Vietnamese market, has constructed an industrial complex in Vietnam and is supporting Korean firms' advance into the Southeast Asian country.
Taekwang said on Wednesday that it has constructed an industrial cluster in the Moc Bai special economic district in Tinh Tây Ninh Province in southern Vietnam, and will inaugurate the complex next month. The industrial complex extends 1.32 million sq. meters in total including 1.08 million sq. meters earmarked for industrial park and 240,000 sq. meters for commercial land. The complex will also be equipped with an industrial water processing facility capable of treating 20,000 tons, and a tap water supply facility capable of supplying 3,000 tons of tap water daily, and high-speed Internet network.
"The industrial complex will process waste water from companies operating in the complex, which helps cut costs for waste water processing and ease regulatory burden among other advantages the industrial complex has to offer," a Taekwang official said. Generally, waste water is usually processed by the company responsible, while the industrial complex concerned only handles the secondary processing.
The construction of the complex reflects the commitment of Taekwang Chairman Park Yeon-cha (72), who has wished to assist Korean firms' foray into Vietnam. Taekwang, a first-generation Korean company that entered the Vietnamese market in 1994, has two production plants in Vietnam. Taekwang is producing Nike shoes and wears through original equipment manufacturing arrangement in Vietnam and China. The Vietnamese plants are exporting products worth 1.1 trillion won (1 billion U.S. dollars) a year.
"We will help companies in the complex build up relationship with the Vietnamese government and win regulatory approvals and permissions by banking on our credibility and visibility that we have built up in Vietnam for 22 years," said Choi Pil-gyu, vice president of Taekwang.
Min-Ji Jung jmj@donga.com