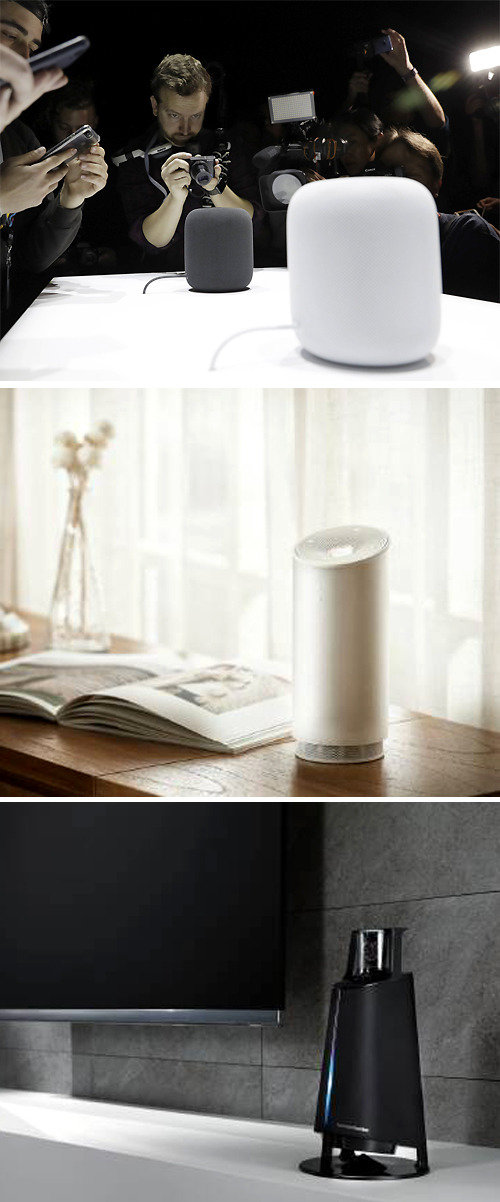 Apple challenged the smart speaker market that is dominated by Amazon and Google by unveiling its first AI speaker "HomePod." Competition among global tech giants to be the leader of IoT market is getting fierce each day and Korean IT companies that provided AI service in Korean language are on the strain.
Apple unveiled its home speaker HomePod equipped with its voice assistant "Siri" at the Apple Worldwide Developers Conference (WWDC) 2017 that took place at San Jose McEnery Convention Center in California on Monday (local time) and announced that it will be released in December. CEO Tim Cook was confident by saying, "HomePod is amazingly intelligent. It will be a new fascinating AI speaker."
Apple is a latecomer in the market where Amazon and Google account for 95 percent of the home speaker market already. However, the company is confident that it will soon catch up by providing users a different experience such as Apple music that stores about 40 million songs and voice assistant Siri that has been upgraded for seven years since its first launch in 2011 for iPhone. Another strong point of HomePod is its interoperability. It can be connected to iPhone, Apple Watch and other popular devices of Apple.
Market leader Amazon launched its home speaker Echo based on AI assistant "Alexa" in 2014 and again, the company unveiled the "Echo Show," a new version of its Echo speaker that features touch screen last month. By disclosing the base technology of Alexa, Amazon tries to expand service interworking and ecosystem.
Google rolled out the Google Home powered by the Google Assistant in October 2016. Google continues to increase user convenience by adding features such as "preemptive services," which indicate users on their saved schedules and flight ticket information before they ask and the voice call that enables users to call by searching for contact information in their mobile phones.
There will be more competitors in the near future. Harman Kardon acquired by Samsung Electronics will launch Invoke, voice activated speaker with MS Cortana, this Fall. There is also a possibility that Samsung will release its Bixby voice-controlled speaker.
Domestic companies are busy to secure their competitiveness before AI assistants of global tech giants are entering into the Korean market. SK Telecom released voice enabled AI speaker "Nugu" in September 2016 and KT followed to unveil GiGA Genie and the two companies are competing with each other. The sales volume of Nugu exceeded 100,000 last month, seven months after the release and KT also sold 10,000 to 20,000 units of GiGA Genie each month and expects to record 100,000 in accumulated sales volume by the end of this month. Naver developed its AI speaker Wave in collaboration with its Japanese messenger affiliate Line and it will be released in this Summer. Kakao plans to roll out its AI speaker in the third quarter of this year as well.
Dong-Jin Shin shine@donga.com · Jae-Hee Kim jetti@donga.com