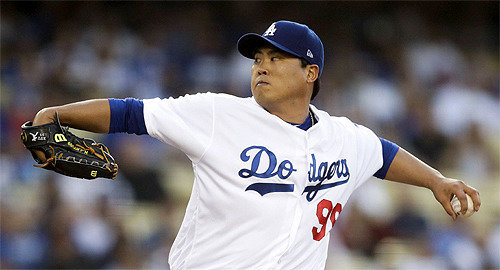 Los Angeles Dodgers pitcher Ryu Hyun-jin wound up a loser but still received positive assessments for thowing a 150 kilometer fast ball for the first time in nearly three years.
Dubbed the "Korean Monster," Ryu threw his highest number of pitching this season upping fast ball speed at the Major League game against the Washington Nationals held at Dodger Stadium in California on Monday. At the first inning, Ryu struck out Washington Nationals star Bryce Harper with 93.8 mile per hour speed.
Ryu made meaningful pitches against the Washington Nationals, which ranks the first place in the National League eastern region. While recovering his speed, Ryu digested seven innings for the first time this season, after taking surgery of his injured shoulder. During the seven innings, Ryu allowed seven hits (one home run) and allowed four runs. He struck out four batters.
He pitched well, but allowing a homerun was a problem. At the second inning with no runner on the base, Ryu threw a change-up against Anthony Rendon but allowed a homerun. Though he lost the game, Ryu was able to pitch up to seven innings against the Washington Nationals, which was boasting of its strongest performance in the National League.
The LA Times said it was a respectable loss, saying that against the Washington Nationals, which is the team with the highest scores in Major League, Ryu perfected seven innings in three years. Los Angeles Dodgers head coach Dave Roberts said Ryu was doing really well, adding he approached 94 miles per hour and also had good changeup and cutter. Roberts also praised Ryu for his high concentration on the mound.
"I felt that I could throw fast balls while warming up before the game," Ryu said. "So I threw many fast balls. It was the fastest speed since surgery, and I'm happy that we didn't show much gap up to the seventh inning."
Jae-Yeong Yoo elegant@donga.com