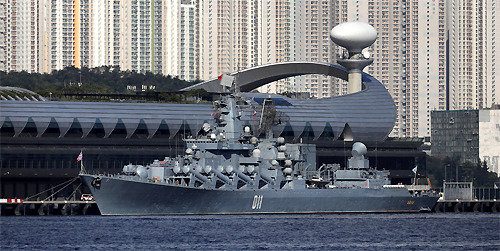 Two Russian naval ships, including the missile cruiser Varyag, have made a historic port call in Hong Kong. While variouis U.S. naval vessels made a port call in Hong Kong since the city was returned to China, it was the first time for Russian ones to visit the port city, reflecting improved ties between Moscow and Beijing.
According to the South China Morning Post in Hong Kong on Tuesday, the guided missile cruiser Varyag and the ocean tanker Pechenga, both belonging to the Russian Pacific Fleet, entered the Kai Tak cruise terminal on Monday after visiting Busan in South Korea, Manila in the Philippines, Cam Ranh Bay in Vietnam, Sattahip in Thailand, Changi in Singapore and Tanjung Priok in Indonesia. The Varyag was open for residents in Hong Kong.
"The main objectives of the visit are development of military naval cooperation with the People's Republic of China, including the Hong Kong Special Administrative Region, as well as rest for the crew," the Varyag cruiser Commander, Captain 2nd Rank Alexey Ulyanenko was quoted as saying. "Russian sailors are doing their best to strengthen friendship, partnership and cooperation between the people of our countries in the best interests of peace and security in the region."
Collin Koh, a maritime security expert from Singapore's Nanyang Technological University, said the move indicated that Moscow was keen to boost its presence in the Asia-Pacific, including the South China Sea. "It will still lags behind the peak levels of the days of the Soviet Union, but it is still useful for it to demonstrate that it's still a major power to contend with, not just in Europe or the Mediterranean but also in the Far East," Koh said.
Attention is also paid to why China allowed the Russian naval vessels to make a port call in Hong Kong. It is believed that China increasingly needs to have military cooperation with Russia in the Asia-Pacific region, as the United States is establishing a front for containing China by strengthening alliance with Japan and Australia and as Japan is getting increasingly involved in the South China Sea. Some experts say that Beijing also aimed to check the closer ties between Washington and Moscow following the inauguration of U.S. President Donald Trump.
Ja-Ryong Koo bonhong@donga.com