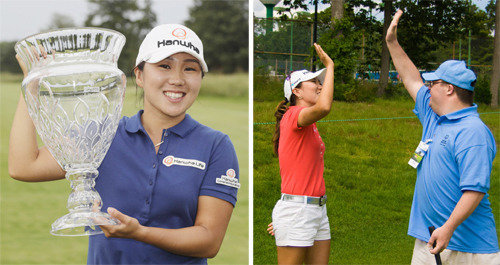 Korean female golfer Kim In-kyung ended the U.S. LPGA Tour after giving up the first round of the Lorena Ochoa Invitational in Mexico in November last year due to food poisoning. The unfortunate situation didn't end there. After returning to Korea she went to Jungto Training Center in Moongyeong, North Gyeongsang Province where she tripped over at stairs covered with snow and had her taibones injured. Due to rehabilitation training, Kim had to skip her four first games.
At the final day for the Nabisco Championships in 2012, Kim failed at the last hole when doing 30 centimeter par putt to miss victory. Since then, Kim was called an icon of misfortune. After she ranked No. 1 in October last year at the LPGA Tour Rainwood Classics, Kim said, "Pain made me humble."
Kim was again mired in agony and it appeared as if she was again being dubbed as the icon of unfortune. It was different this time, however. At Round 3 in the ShopRite LPGA Classic at the Stockton Seaview Golf Club in New Jersey Sunday, Kim recorded a combined 11 under par beating Anna Nordqvist, who was aiming for her third straight win, by two hits, grabbing her fifth win.
At this competition, Kim was cheered by disabled people. Kim was appointed as an honorary ambassador for Special Olympics in this golf course in 2012, and then opened a golf clinic for disabled people there. In 2015, Kim was a torch-bearer in this area. In 2010, she sent half of the 220,000 dollar award money given for Lorena Ochoa competition in 2010 to fund building a school in Mexico, and gave the remaining half to sponsor the Special Olympics.
"It was a special victory for me. Every time I play at this competition, I do warming up with Special Olympics players and practice putt, which really energizes me," Kim said after the game. "I also receive cheering messages from them. I'm happy that I can be with them though I really can't help them much."
Kim has not been playing for nearly a month since the end of April. She must have felt pressure due to sluggish records, but Kim chose to catch her breath." Called "donation angel," Kim said, "Golf is extremely a personal game. Even tough it can make a person think of just him or herself, it is a tremendous thing to support others as it also enhances me."
Jong-Seok Kim kjs0123@donga.com