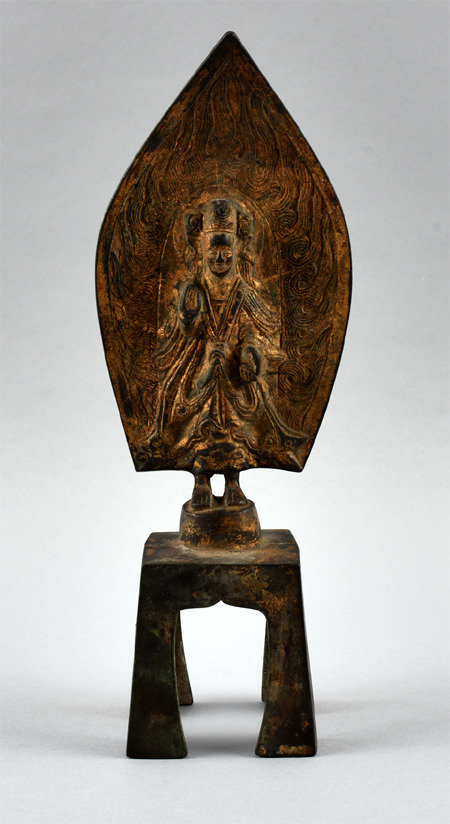 The Gyeongju National Museum has decided to reappraise some 2,600 pieces of cultural assets seized from Japanese people after Korea's independence. The decision came after the seized Buddhist statue of the Northern Wei was found to have been duplicated under the Japanese colonial rule.
"We plan to investigate and check the number of replica relics made by people in the private sector under the colonial rule among the seized relics," Yoo Byung-ha, the director of the museum, said on Thursday, "We will also check how the replicas were used at that time." Therefore, the museum considers investigating the entire seized items with external experts.
The museum confirmed that the Northern Wei Buddhist statue is a copy after the analysis of the substance of the statue among its collection seized after Korea's independence. In his recent paper on the analysis of replicate artifacts under the Japanese colonial era, curator Jeon Hyo-soo said that the Buddhist statue in the black and white photo taken by Japanese archeologist Ryūzō Torii in Hongseong County, South Chungcheong Province, in 1915 is identical with the statue in the Gyeongju National Museum." The statue in the photo, which was owned by a Japanese judge who lived in Hongseong back then, is now missing.
An interesting part is that the same Buddhist statue of the Northern Wei era is also owned by a museum in Shandong Province in China. The same sentence is engraved in the back of the halo of the statue: "A couple living in Beijing created a statue on June 10, 525 in order to stabilize the country and the world and help all people's desire to be widely realized."
The text says the couple made a statue while at least three statues have been discovered. "It is obvious that either the statue in the Chinese museum or the statue in the black and white museum is a duplicate," Jeon said. The existence of the original statue has not been identified.
It is notable that replicated relics made by Yueno Company after proposal by Kosaku Hamada in the 1920s and 1930s. He is a Japanese archeologist who participated in the excavation of ancient tombs on the Korean Peninsula.
Why did they make replicates of Korean artifacts? Jeon claim that the Japanese colonial rule partly intended to reinforce the colonial view of history by undermining the independence of the Korean history as many relics that seemed to have been influenced by China, like the relics discovered in the Nakrang tombs in Pyongyang were duplicated. It was confirmed that a model map was distributed as educational materials to elementary schools under the colonial rule.
Sang-Un Kim sukim@donga.com