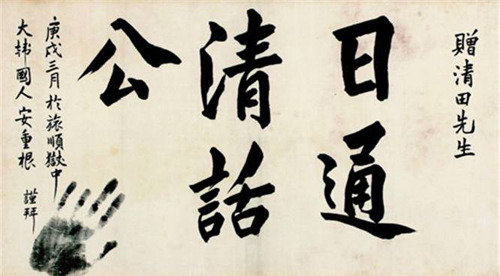 Korean independence activist Ahn Jung-geun's (1879-1910) last handwriting with the phrase "Iltongcheonghwagong," which was handed over to a Japanese warder in March 1910, immediately before he died a martyr in a Chinese prison in Lushun, has been donated to The Academy of Korean Studies.
The Academy of Korean Studies announced on Thursday that Lee In-jeong, the co-chair of the Korean Council for Reconciliation and Cooperation, donated the Korean martyr's handwriting, which had been auctioned off for 258,000 U.S. dollars in April this year on K-Auction, to the academy's Jangseogak Library.
The phrase means a person who always communicates clearly, referring to the Japanese chief warden with whom Ahn Jung-geun had conversations everyday though behind bars. On the left side of the handwriting is the print of Ahn's left hand with the tip of his fourth finger missing.
"In prison, Ahn is said to have deeply inspired the warden, prison officers, and his interpreter, but there have been few episodes about his relationship with the chief warden," said an official from the academy. "The handwriting will be an important clue for additional research."
There are about 50 handwritings left by the Korean independence activist. Twenty six of them are national treasures, and the handwriting donated to the Academy of Korean Studies has yet to be designated as cultural property.
Jong-Yeob JO jjj@donga.com