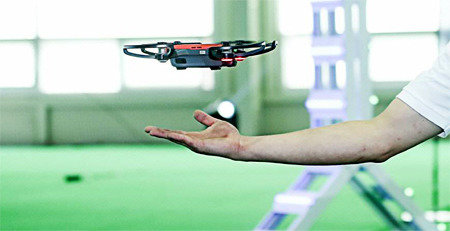 China's DJI, the world's largest drone manufacturer, has released an ultra-small drone named "Spark." DJI Korea has unveiled Spark for the first time in Korea at the DJI Arena, a drone airfield in Yongin, Gyeonggi Province.
Spark embedded "Jesture Control," which controls the drone only with hand motion, for the first time. When facing the palm right below the flying drone and moving the palm in an intended direction, the drone moves in the palm's direction. If one waves his or her hand toward the drone, the drone moves in that direction. If one waves hands toward the drone, a remote filming is possible as the drone parts from the person. If the thumb and forefinger are used to make a square shape, a selfie mode is on.
Previously, drones had to be manipulated with exclusive controllers. "We adopted a deep learning technology on the drone camera to recognize the hand's motions," said Moon Tae-hyun, head of DJI Korea.
Spark is also the smallest among DJI drones. Its size is that of an adult's palm, and weighs just 300 grams, the weight of a beverage can. Since it is light and small, the drone can take off and land on the palm. DJI's new drone costs 620,000 won.
Thanks to Spark, drones are likely to be put to better use in daily life. As existing drones are big and hard to manipulate, they were mostly used by experts in movies and filming of natural landscapes.
Jae-Hee Kim jetti@donga.com