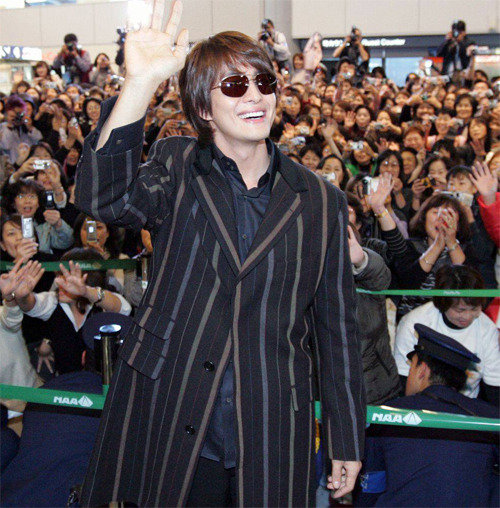 It is known that the word Hallyu (the Korean wave) began to appear in the late 1990s and the early 2000s from Taiwan, China, and Korea. Hallyu first appeared when the Korean drama Winter Sonata was aired on NHK satellite channel in 2003.
NHK first considered that the drama was for passing the time. However, the public broadcaster aired it again on the company's terrestrial TV channel next year as the drama gained the unexpected popularity. It was the beginning of the Hallyu boom in Japan. Private networks rushed to import Korean dramas as they witnessed the great success of Winter Sonata. These period is called as the first wave of Hallyu.
Before the success of Winter Sonata, Korean movies such as Swiri Shiri and Joint Security Area topped the Japanese box office in 2000, serving as an opportunity for Japanese to rethink the enhanced quality of Korean contents. In addition, the 2002 FIFA World Cup Korea/Japan made a favorable impression on Korea. Korean singer BOA, who released her debut album in Japan in 2001, and boy band TVXQ (debuted in 2005) were Korea pop stars tailored to the local market and they contributed to increase the Korean fever in Japan.
The second wave of Hallyu blew hard as girl group Kara and Girls' Generation made their debut in August 2010. They ranked first and second on Japanese CD and DVD sales rankings for rookies of the year, beating Japanese artists.
Mr. Furuya explained that the reason why they were popular was because they were new types of idols who were rarely seen in the Japanese music industry. Most Japanese idols were easy to meet and grown up with support from their fans as in the case of AKB48 at that time. Korean idols, who were already professional singers trained for a long time, were stars for wonder.
Hallyu was disappeared in terrestrial TV channels since 2012 but the fans still calmly support the Korean wave under the surface. For instance, about 1,600 fans attended a fan meeting of Han Seung-yeon, a former member of Kara, on May 13 although the ticket was priced at about 100,000 won.
Some Japanese, who watched the Korea-Japan relation for a long time, said that old Korean singers who were active in Japan during 1970s and 1980s contributed a lot to enhance the understanding between the two countries. Lee Sung-ae, who debuted in 1976, is the first Korea singer succeeded in Japan. She appeared on TV dressed in Hanbok, Korean traditional clothes, and sang "Heartbroken" and "Come back to Busan Port" in both Japanese and Korean.
Young-A Soh sya@donga.com