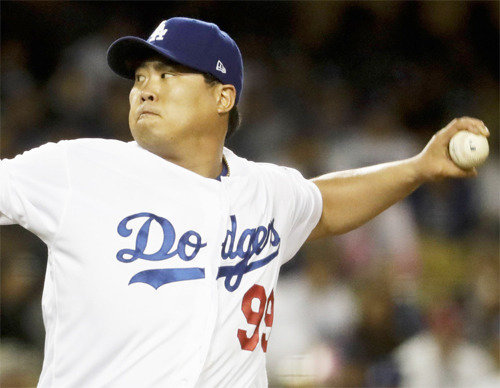 Los Angeles Dodgers pitcher Ryu Hyun-jin ran out when the door to the bullpen opened during switch of innings. It was a moment that Ryu has not experienced in 64 games since his Major League debut in the 2013 season.
Ryu took the mound as relief pitcher on Thursday local time in lieu of starting pitcher for the first time since his debut in the big league in a game against the St. Louis Cardinals, which took place at the Dodger Stadium. Ryu took the mound as relief pitcher for starter Kenta Maeda of his team in the top of the sixth inning, and gave two hits, two strikeouts and no run during four innings, enabling his team to secure its 7-3 win. He also posted his first save in the Major League in his first game as relief pitcher.
Including his career in the Korean pro baseball league, Ryu has played a relief pitcher on the 2,059th day since the game against the Lotte Giants on Oct. 6, 2011. He has posted his first save on the 3,889th day since the game against the Doosan Bears on Oct. 2, 2006. Ryu has been playing a starter in most of the games since the 2006 season when he debuted. He took the mound as relief pitcher in just nine of the 190 games overall while playing in the Korean league.
Ryu has transitioned to a relief pitcher in Dodgers due to the situation in his team. Since the team has as many as seven starting pitchers including its ace Clayton Kershaw, it cannot afford to field all of them as starters. Ryu garnered his second win in this season in the game against the Miami Marlins on Thursday last week, but his performance has yet to be recognized by his team. The fact five of the seven starting pitchers in his team are left-handed has also negatively affected Ryu's situation, according to analysts.
Unlike starting pitchers who are mostly scheduled to play every four to five days, whether a relief pitcher will play or not is determined based on the evolving situation of the game on a given day. A relief pitcher often has to wait further when the situation of a game changes even after warming up in the bullpen to be ready to play. For this reason, his team let Ryu warm up from early on in the fourth inning in Friday's game unlike other relief pitchers who practice pitching right before taking the mound. The team took the measure to enable Ryu to warm up the way he would as a starting pitcher to the extent possible. However, a relief pitcher is a position that he does not feel comfortable playing, as he has been getting back on track in performance since undergoing surgery on his shoulder.
"I took the mound half-way through the game, which was new. I was excited to post a save and felt great overall," Ryu said. "All the conditions including warming-up have changed. I have been downgraded (to a relief pitcher) now, but I wish to find an opportunity to play a starting pitcher again in the near future."
Hong-Gu Kang windup@donga.com