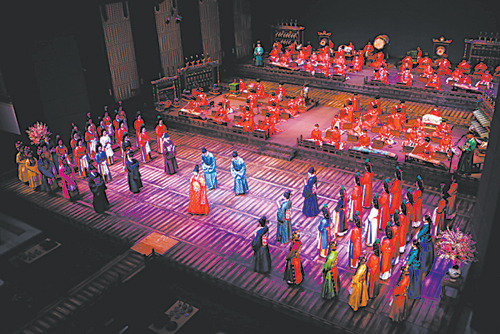 King Sejong the Great's "Yongbieocheonga (Songs of Flying Dragons)" will be remade as a traditional Korean dance with the Korean traditional music.
The National Gukak Center will put "New Music of King Sejong the Great - Tree of deep roots water of deep spring," a reinterpretation of the first Korean heroic song among the court music of the Joseon Dynasty as a traditional Korean music and court dance, on Friday and Saturday. It is performed by the court music orchestra and the dance theater of the center and directed by Professor Shin Seon-hee at the Seoul Institute of Arts.
The center translated the original transcript of the heroic saga into an easy Korean chorus to increase engagement of audiences. It was arranged mostly as a chorus with the music being based on court music, such as Sujecheon, Yeominlak, Jeongdaeeop, Botaepyeong, and Suryongeum. To visualize the images of the original song, the new piece will showcase new choreographies based on court dances including Cheoyongmu and Monggeumcheok.
Sang-Un Kim sukim@donga.com