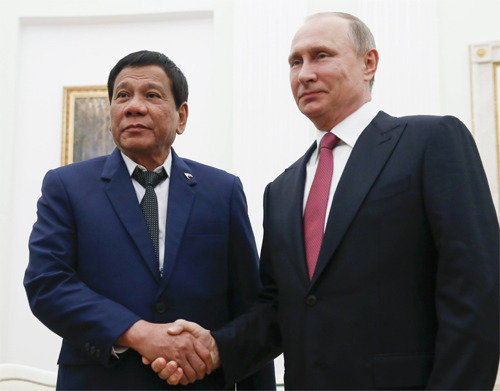 Philippine President Rodrigo Duterte declared martial rule on the southern island of Mindanao on Tuesday to prevent massive terror attacks by Maute group, Islamist militants believed to be inspired by Islamic State, in the region. However, there are mounting concerns that he could use this to strengthen reign of terror.
Duterte has been criticized of infringing on personal rights after allowing the killing of drug trafficking suspects without due process.
According to AP and CNN on Tuesday, Maute and the Philippine government military got engaged in a battle while Duterte was visiting Russia. Having been briefed that Maute dominated the Marawi city hall, detention center and major streets, Duterte immediately declared a martial rule for 60 days. After the summit talks with Russian President Vlamidir Putin, he cancelled the remaining schedule in Russia and headed home. Duterte said he hoped the martial rule could end within a month but that it could continue for a year, clearly signalling a possible prolonging of the situation.
The latest incident happened while the Philippine government military and police was trying to execute arrest warrant against Isnilon Hapilon, a leader of the infamous Abu Sayyaf kidnap gang. Maute set on fire schools and churches in Marawi and destructed power facilities resulting in a blackout. Also, it brought down the Philippines national flag posted on major facilities in Marawi instead hanging a black flag resembling that symbolizing IS. Maute group is also dispatching snipers in major buildings it raided. The seriousness of damages to ordinary people are yet to be known but so far three government soldiers were dead and 12 injured during the battle.
Maute, which had long been present in the southern Philippines, where a huge Muslin population resides, has sworn loyalty to the IS and has committed bomb terror attacks and kidnapping. Amid weakening influence in the Middle East, the IS has been making efforts to expand power in the non-Middle East regions. Amaq News, a pro-Islamic State media outlet, said IS soldiers have embarked on a massive attack on the Philippine government military in Marawi, impying it is closely monitoring the latest incident.
Anti-Duterte forces including the opposition party criticized that declaring a martial rule on the whole island was too much of a far-fetched measure even as just one city was attacked. However, the Philippine Congress is dominated by pro-Duterte forces meaning the martial rule will stay for a while and can even be extended. There are concerns that during this process that reckless killings and arrests could take place worsening of human rights infringement.
Se-Hyung Lee turtle@donga.com