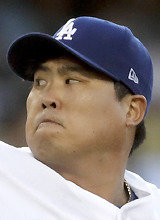 It is highly likely that Korean monster Ryu Hyun-jin will take the mound on next Sunday against the Chicago Cubs to take his third win.
The Los Angeles Dodgers will play three games in a raw against the St. Louis Cardinals and the Chicago Cubs starting from Wednesday at its home ballpark Dodger Stadium. Dodgers announced already that Clayton Kershaw, Rich Hill, and Kenta Maeda will take the plate as the starting pitcher against Cardinals. Then, the remaining pitchers in starting corps are Alex Wood, Brandon McCarthy, and Ryu Hyun-jin, of course. The chance is high that the three players will be the starters but the order is not determined yet.
Sports news channel ESPN predicated that Ryu will pitch against John Lackey. This right-handed pitcher marked 4-4 with a 4.82 ERA in his 14 year MLB career.
It's been nine days after taking his second victory in this season on last Friday, if he takes the mound on that day. Such a long interval means that Dodgers is "taking care" of Ryu who suffered from the shoulder injury. However, it also means that he is losing ground as a starting pitcher. He must pitch well this time. It is 17 times that Ryu steps onto the mound after taking a long rest for more than six days. He marked 8-6 with a 3.35 ERA in the 17 games.
He started three games against Cubs and this game will mark his fourth start. Ryu's record against the Chicago Cubs was 1-1 with a 4.24 ERA and the first defeat was on April 14. Ryu gave six hits including two homers, and lost four runs during four and two thirds of innings.
Ryu started the game nervously as Anthony Rizzo (28) hit a solo home run. Everything is determined in the first inning. He started 64 games since his debut on the major league and his first-inning ERA was 5.20, the most vulnerable in the first inning. Batting average was the highest in the first inning with 0.302 as well.
Kyu-In Hwang kini@donga.com