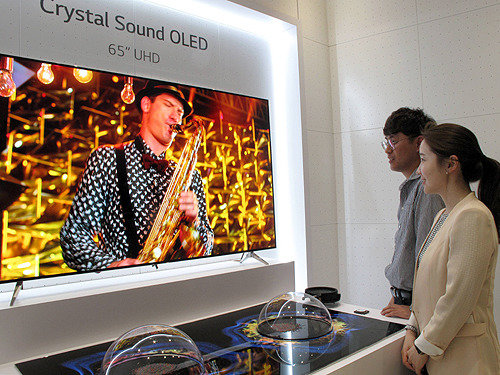 Parts that would play their respective roles in TVs, notebooks, and automobiles are integrated into displays, which are constantly evolving. This is a description of next-generation displays that LG Electronics unveiled at the Society for Information Display (SID) exhibition held at the Los Angeles Convention Center on Tuesday.
LG Display introduced en mass displays for vehicles that are drawing attention as convergence between automobiles and information technology devices. Transparent displays for vehicles are aiming at catering to the surging demand for head-up displays that are designed to enhance the motorist's vision and safety. A 12.3-inch display has enhanced its transparency by 60 percent. "Room mirror displays" has been upgraded into 7-percent high-reflection full-screen display by adopting organic light emitting diode (OLED).
LG also introduced 24-inch displays along with a built-in touch sensor in the panel for consumers who want to touch the screen on their laptops and PC monitors. Another product that drew attention at the exhibition was the Crystal Sound OLED panel that produces sound on 65-inch wallpaper OLED TV panel and screen just 1 millimeter thin, which has been picked as "Display of the Year."
Dong-Jin Shin shine@donga.com