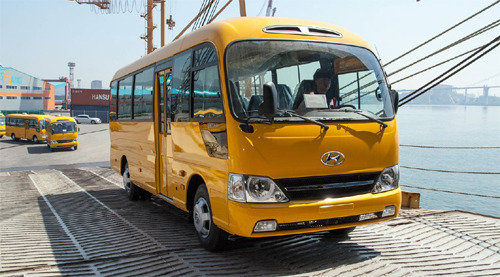 The Korea Trade-Investment Promotion Agency (KOTRA) said on Monday that KOTRA, POSCO Daewoo, the Yangon Region Government of Myanmar, and Yangon Bus Public Company signed a contract to supply 200 buses, manufactured by Hyundai Motor, to the Yangon region and shipped the first batch of 50 buses.
The deal is a government-to-government (G2G) export contract and a G2G contract is made by KOTRA singing an export contract as a contracting party with a foreign government at the request of a purchasing country to support Korean exporting companies in accordance with the Foreign Trade Act. KOTRA said that the deal marks Korea's first GSG contract for general supplies with an Asian country.
The Hyundai's 29-seat New County provided to Yangon will be used as school buses to ferry students. The remaining 150 buses will be shipped by next month. "This contract is meaningful in that the scope of G2G export contract is expanded from Latin America to Asia," KOTRA CEO Kim Jae-hong said.
Woo-Shin Han hanwshin@donga.com