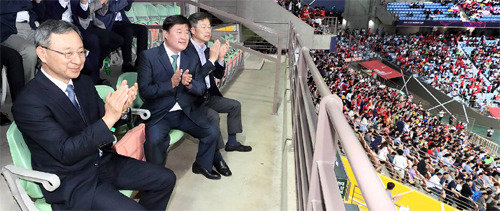 Companies are racing to step up soccer marketing drives in the wake of the FIFA U-20 World Cup, which are taking place in Korea. With information technology and electronics companies announcing plans to stage far-reaching experience-focused marketing campaigns timed with the 2018 Pyeongchang Winter Olympics, businesses have thus taken the first step already to gain the upper hand in technology marketing competition.
KT will pilot test platform technology for 5G mobile telecom at the U-20 World Cup in Korea, which kicked off on Sunday. An official sponsor of the U-20 World Cup, KT will construct a pilot 5G network at the stadiums, and incorporate 5G-based 360-degree virtual reality (VR) and "time slice interactive" in broadcasting of soccer matches. Broadcasting adopting 360-degree VR and time slice interactive will be applied to three preliminary matches that the Team Korea will play in Jeonju, and the final match that will take place in Suwon, Gyeonggi Province.
As an official sponsor of the event, Samsung Electronics is also proactively introducing its World Cup Special quantum light emitting diode (QLED) TV technology. The electronics giant is holding a marketing event that gives extra benefits including mileage points to consumers who purchase the product.
Hyundai Motor will provide 123 vehicles including the Genesis EQ900 luxury sedan, the Sonata, and the Avante (Elantra) to support proceedings of games, transportation of players and general operation of the event.
Hyun-Seok Lim lhs@donga.com