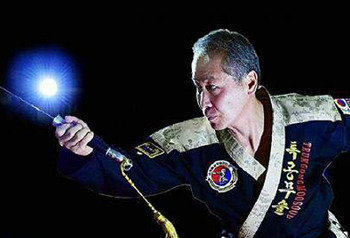 The 2017 Youth Special Martial Arts Contest prized by the Ministry of Culture, Sports, and Tourism will be held Saturday at the Education Student Gymnasium of Seoul Metropolitan Office in Songpa-gu, Seoul.
Hosted by the National Teukgong Moosool Federation, the event will witness some 1,500 martial artists competing in four different categories including the code of martial art, code of martial artist, code of warrior, and records (high jump kicks, dagger throwing, blowgun, tiles breaking, and leap fall). The opening ceremony, which starts at 11:30 a.m., features a rich array of entertainments such as a demonstration of special forces, military band performance, bodyguard martial arts, Goguryeo martial art performance. Audience experience programs and gifts will also be offered.
"Teukgong moosool was designated as a martial art of national defense in 1980, and over the 37 years of history, the martial art has established itself as national sports thanks to its values in physical development and emotional cultivation," said Park No-won, the founder of special martial arts and the president of the federation. "We believe that the event will serve as a stepping stone to globalization of Korea's Teukgong moosool."
"The Teukgong is unique as it was created in Korea," said Kim Yong Jung, the governor of the federation. "The martial art will be a great help for our students to control their body and mind."
Jong-Seok Kim kjs0123@donga.com