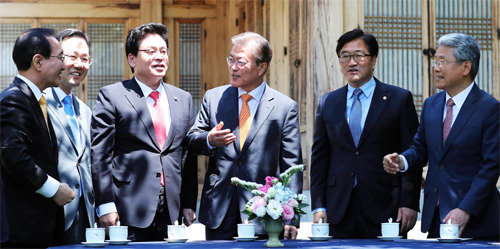 President Moon Jae-in reaffirmed on Friday that he would seek constitutional amendment during the local elections in June next year as he promised prior to the recent presidential election. He also announced his plan to form a standing consultative body of ruling party-opposition parties-government on state administration.
President Moon agreed on the plans during a luncheon meeting with floor leaders Woo Won-shik of the ruling Minjoo Party, Chung Woo-taek of the main opposition Liberty Korea Party, Kim Dong-cheol of the People's Party, Ju Ho-young of the Bareun Party, and Roh Hoi-chan of the Justice Party. "The floor leaders of the five parties agreed to President Moon's suggestion to run a standing consultative body of ruling party-opposition parties-government on state administration, and they agreed to start discussion about practical issues," presidential spokesman Park Soo-hyun said.
"President Moon said it is desirable that the political circle gathers adequate opinions from the public, and reflect them, and discuss change of election systems in the course of discussions about constitutional amendment," Park said. "President Moon said that he would amend the Constitution in June next year without fail as I promised. I am the kind of person who is obsessed with what I say," Floor leader Chung Woo-taek also said. As Moon has expressed strong commitment to constitutional amendment again after vowing to change the Preamble to the Constitution, discussions about constitutional amendment in the political circle will likely gather significant momentum.
Additionally, President Moon and the floor leaders of the running and opposition parties agreed that the National Assembly discuss reform of the prosecution, the National Intelligence Service and the broadcasting sector and related issues. "President Moon expressed strong commitment that he will completely root out the National Intelligence Service's intervention in domestic politics even before the National Assembly reaches agreement on the measure," Park said.
On the demand that the government clarify its stances on the deployment of the Terminal High Altitude Area Defense anti-missile system, President Moon said, "I will cautiously approach the issue by taking into consideration the results of activities by special envoys, and the upcoming Korea-U.S. summit and Korea-China summit."
"The government will explain about an extra budget meant to create jobs to the National Assembly in details," the president said, urging the parties to extend cooperation to pass the extra budget bill. The luncheon meeting between Moon and the floor leaders lasted for about two hours and 20 minutes at Sangchunjae in the presidential office.
"The main menu is bibimbap (stir-fried rice topped with vegies, fried egg and beef), which symbolizes integration," the presidential office said. "First Lady Kim Jung-sook delivered sweetened ginseng that she cooked by herself as desert and gifts."
Sang-Jun Han alwaysj@donga.com · Chan-Wuk Song song@donga.com