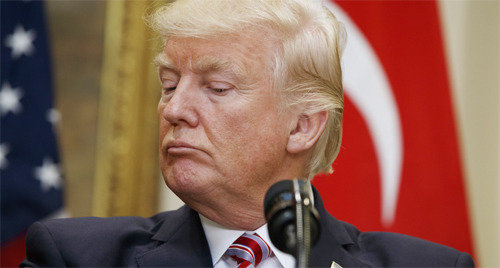 U.S. President Donald Trump has faced with his biggest political challenge ever since his inauguration in January over a series of allegations that Trump asked FBI to stop its investigation into Russian interference in the U.S. presidential election and any internal association. Moreover, Trump has been accused of sharing confidential information about Islamic State with Russia. If it becomes worse, it could lead to impeachment of Trump. The ongoing scandal over Trump may impact the first presidential summit between Trump and his South Korean counterpart Moon Jae-in scheduled in July, bilateral cooperation for North Korea's nuclear program and a visit by special envoy.
"I hope you can let this go," Trump told former FBI Director James Comey regarding FBI's investigation into Russia at his White House office on February 14, the New York Times reported Tuesday (local time), citing a source close to Comey. Comey wrote account of his meeting with Trump in a two-page long memo and the New York Times confirmed its content from the source. Comey was fired on May 9 for his conflicts with Trump over an investigation into Russia.
The White House issued a statement, saying, "This is not a truthful or accurate portrayal of the conversation between the President and Comey." However, some politicians are calling for special prosecutors or impeachment after viewing it as Trump's Watergate moment. John McCain, the Arizona Republican senator, also worried that it is reaching Watergate size and scale.
Seung-Heon Lee ddr@donga.com