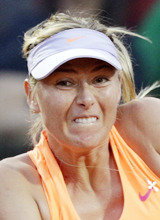 The 30-year-old tennis player Maria Sharapova of Russia has been denied to play at the French Open.
The French Open organizers announced Tuesday, saying, "We have decided not to give a wildcard to Sharapova." "There can be a wildcard for the return from injuries but there cannot a wildcard for the return from doping," said French Tennis Federation President Bernard Giudicelli. "Her fans might be very disappointed, she might be very disappointed, but it's my responsibility, my mission, to protect the high standards of the game played without any doubt on the result."
Sharapova was tested positive for doping test, and the International Tennis Federation decided a 15-month ban on the Russian player. As the world ranking is based on points earned in the previous 52 weeks, Sharapova had zero point for her return game on April 26. However, the WTA Porsche Grand Prix gave a wildcard to Sharapova for her entry. Accordingly, tennis fans were curious if Sharapova would play as a wildcard at the French Open, the first major after her return in April.
Sharapova's current ranking is 211 in the world and she is projected to rise to 171, becoming eligible to play at the next major Wimbledon. Only players with rankings above 244 in the world are eligible to play in majors. Sharapova was 264 in the world on the cut-off date for the French Open.
Kyu-In Hwang kini@donga.com